My name is Mike Hostetler. I'm a technologist and entrepreneur who currently works running technology for Cars.com. I live in Chicago, Illinois.
What is your current laptop / desktop?
I regularly work across three laptops. I have a 13" MacBook Pro that I use for work. I have an 11" MacBook Air that I use when commuting to & from work (I ride a train 1 hour each way, daily). I have a 15" MacBook hooked up to a Thunderbolt Display that I use like a Desktop at home. I maintain the same configuration across all three systems.
What menu bar apps do you use and why?
I use Bartender to keep my Menu Bar clean. Bartender lets you configure Menu Bar apps to hide or show, based on your preferences.
When Bartender is hiding my Menu Bar apps, I only keep the Combined Widget from iStat Menu's showing. It display's the day of the week, date and time:
You can click on it to expand to see all the necessary systems stats: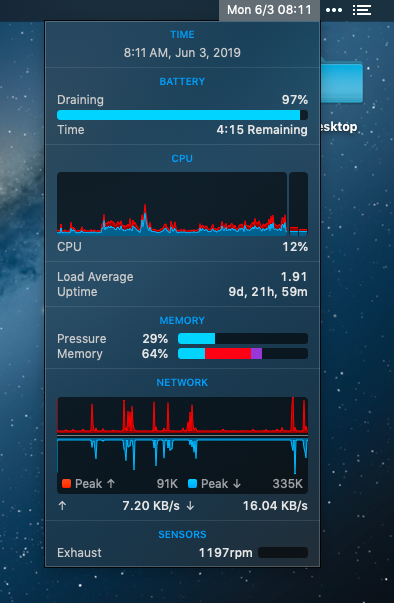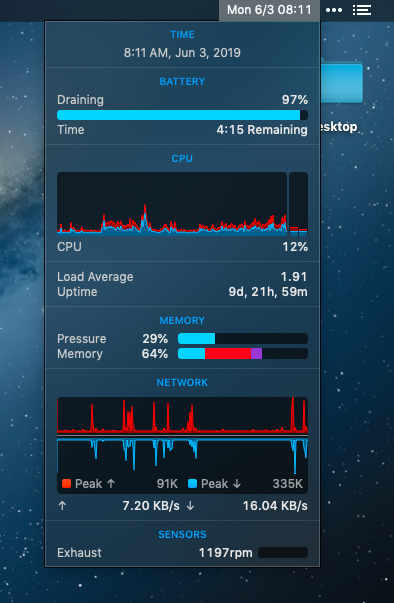 My Hidden Apps:

Dropbox – Shared file storage
Keybase – Shared Public Key Cryptography & Messaging
1Password – Password Management
Spotlight – System spotlight
BlueJeans – Vide Conferencing Software
Boxcryptor – Service to automatically encrypt files stored into public clouds
Amphetamine – App to keep my mac's from falling asleep
Alfred – System-wide shortcut bar
JetBrains Toolbox – Keep JetBrains up to date
System Bluetooth
System Wifi
Postgres – Database system for development
Little Snitch Network Monitor – Little Snitch is a application that monitors all network connections made on a Mac and allows you to configure allowed connections.
Bartender – Bartender controls hiding & showing menu bar apps
Notifications – System Notifications menu
Is there a menu bar app that doesn't exist yet and should be invented?
There's so many good ones. I'd love an app that helps me better manage my Menu Bar apps, so I could install & enable different configurations easily across multiple systems. Doing it by hand right now gets tedious.