Your Mac comes with Automator, that's nice. But there is so much more. Time to put your computer's smarts to work!
Check out these Mac Menu Bar Productivity Apps:
Alchemy
Alchemy is an open-source file converter. It also supports merging files together into a pdf.
Image conversion and merging, all from the convenience of the menu bar. Simply drag and drop your image files to seamlessly convert them into a variety of formats, or merge them into a PDF or gif.
AnyDrop
AnyDrop simplifies your workflow by assembling as many features as possible within one customizable menu bar app, which can be used entirely with hotkeys and drag & drop. It is especially suitable for processing text and images.
Applied Focus

This menu bar app helps you to create better habits by giving you better visibility of your computer usage. It allows you to set up a white list of apps you'd like to monitor.
aText
With aText you avoid typing the same thing over and over, such as responding to common email questions, auto-populating commonly used phrases and even passwords if needed. aText runs in the background. You'll see the app's icon in the menu bar.
The app accelerates your typing by replacing abbreviations with frequently used phrases you define.
Bidbar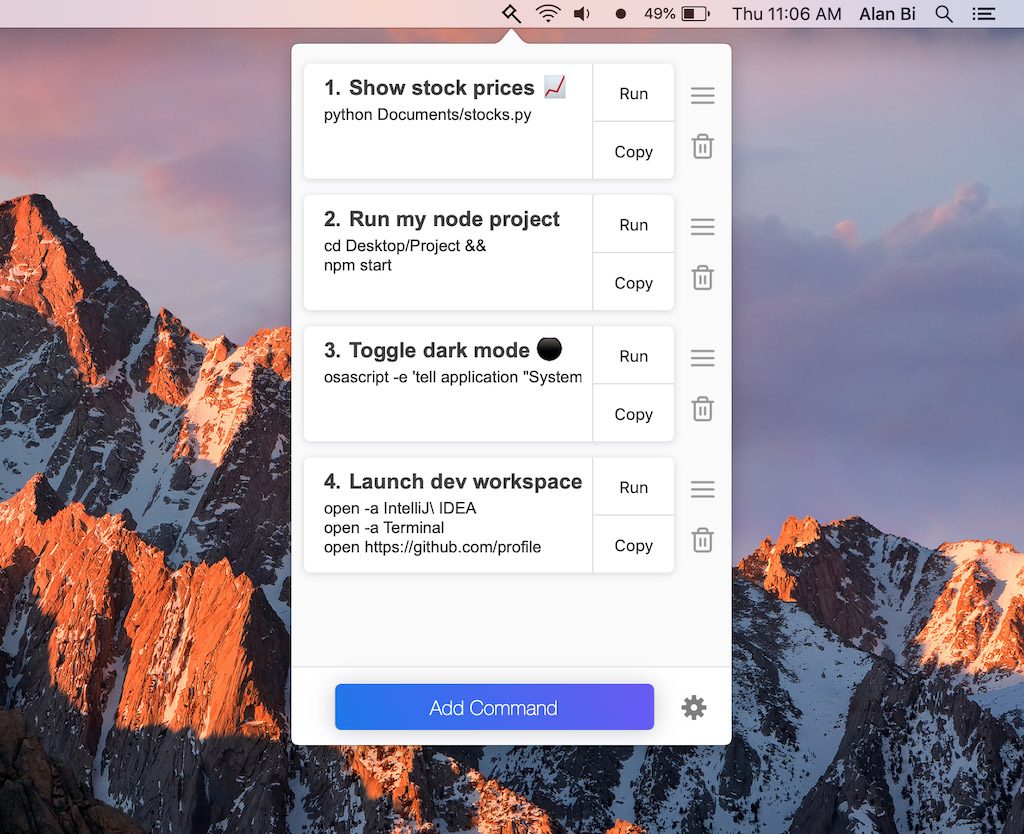 With Bidbar, all your Terminal commands are at your finger tips, just a click of a button or a tap of a key away.
Bumpr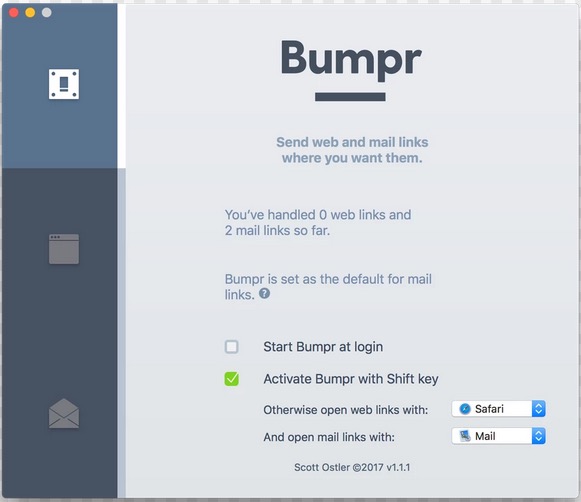 Bumpr lets you choose where to open links and mail, so you don't have to be tied to one browser or mail app.
CheatSheet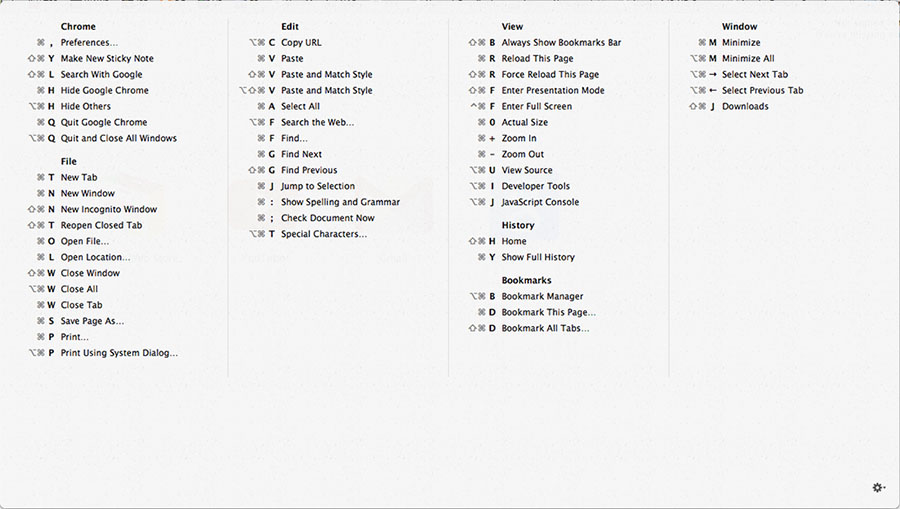 CheatSheet for Mac enables users to have a list of all active short cuts of the current application right at their fingertips. You don't have to memorize them, as each hotkey listing is also a link to the function. It worked with every program.
DND Me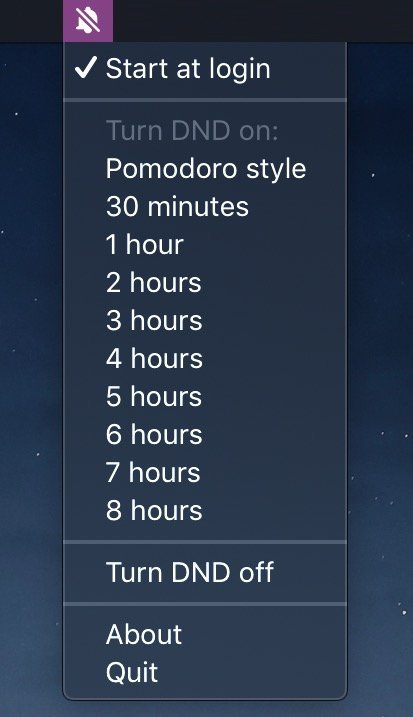 Ever wanted to get your work done? Do you turn Do Not Disturb on, but always forget to turn it off? Activate Do Not Disturb for a few hours and work distraction free.
Feeds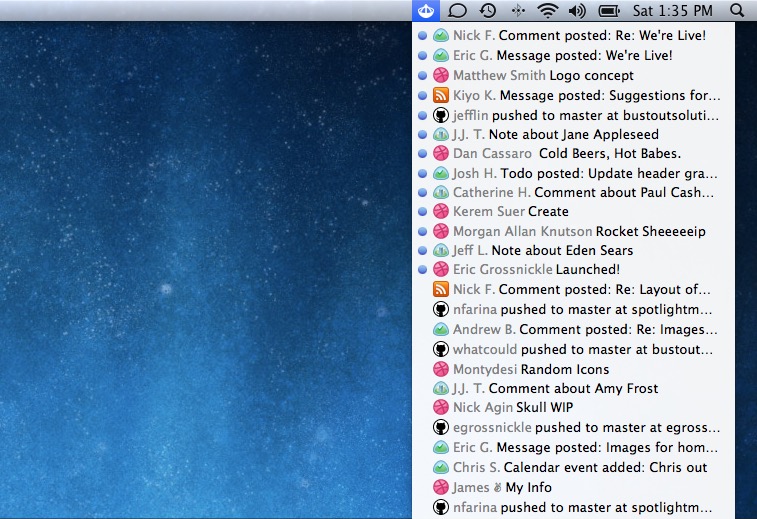 Feeds lives in your Mac's menu bar and lets you quickly view the content of new posts without ever opening a browser window. Clicking a title will open the full article in your browser. Of course, you can add any RSS or Atom feed to Feeds.
Focus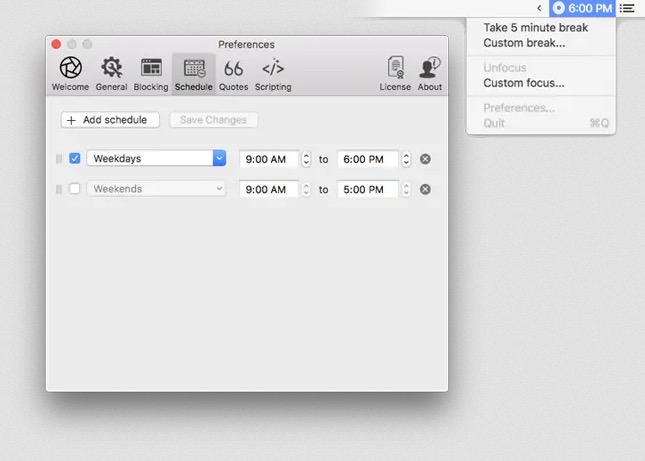 Focus is a Mac app that sits in your menu-bar and helps you block websites and applications.
Getinspiration
This menu bar app lets you receive a motivation sting based on a time frequency. The quotes should inspire and motivate you during hard working sessions.
Hazel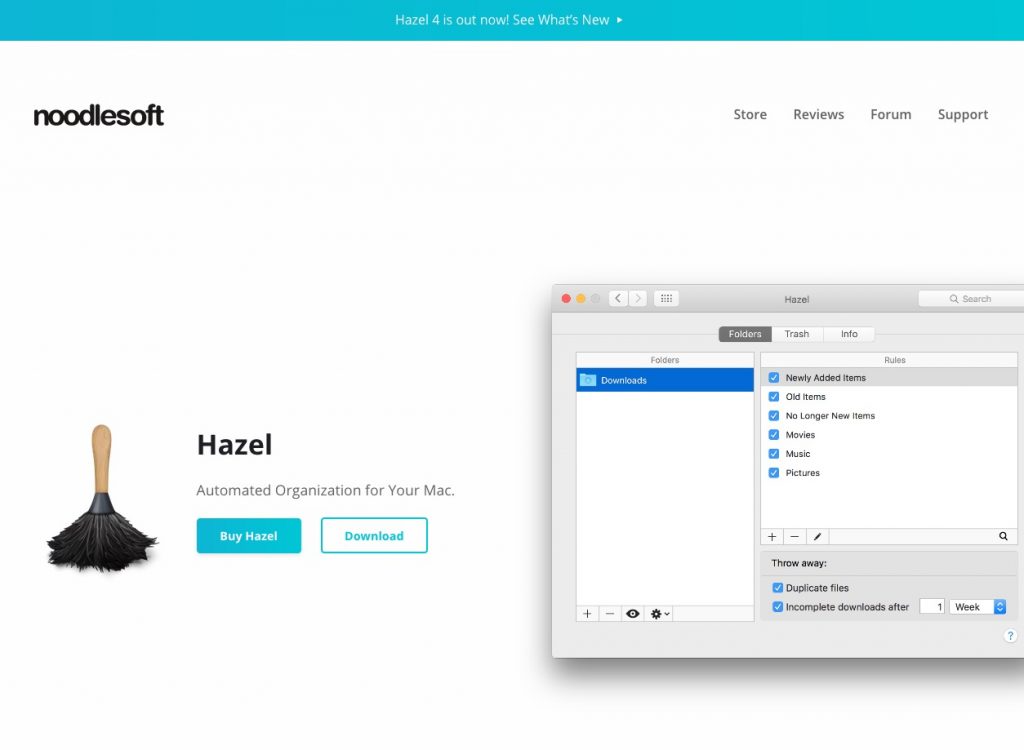 With Hazel you can create rules for organizing and cleaning folders. You can start and stop Hazel, open the Hazel app window, and even run individual rules from the menu bar.
HazeOver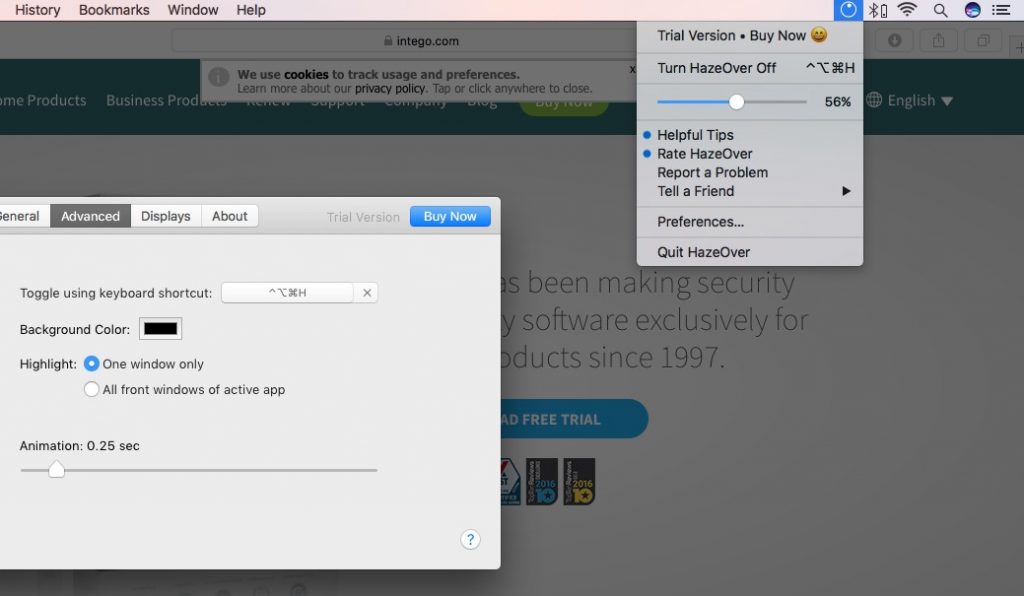 HazeOver is a nifty app that automatically highlights the front window by fading out all the background windows. A kind of dimmer switch that reduces distractions by fading out background windows.
Hocus Focus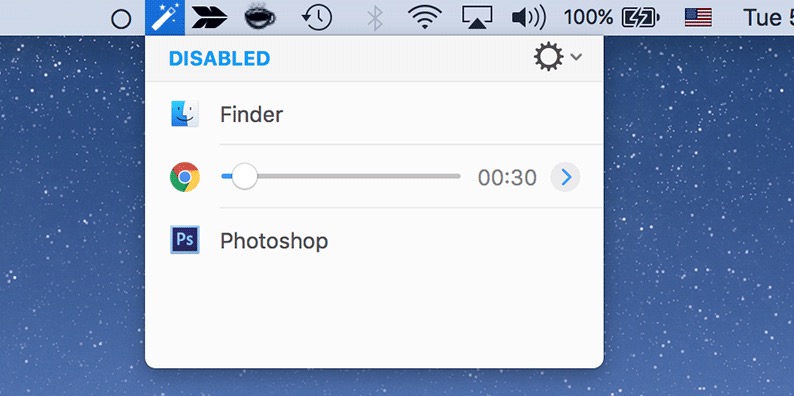 Hocus Focus automatically hides application windows that have been inactive for a certain period of time.
Isolator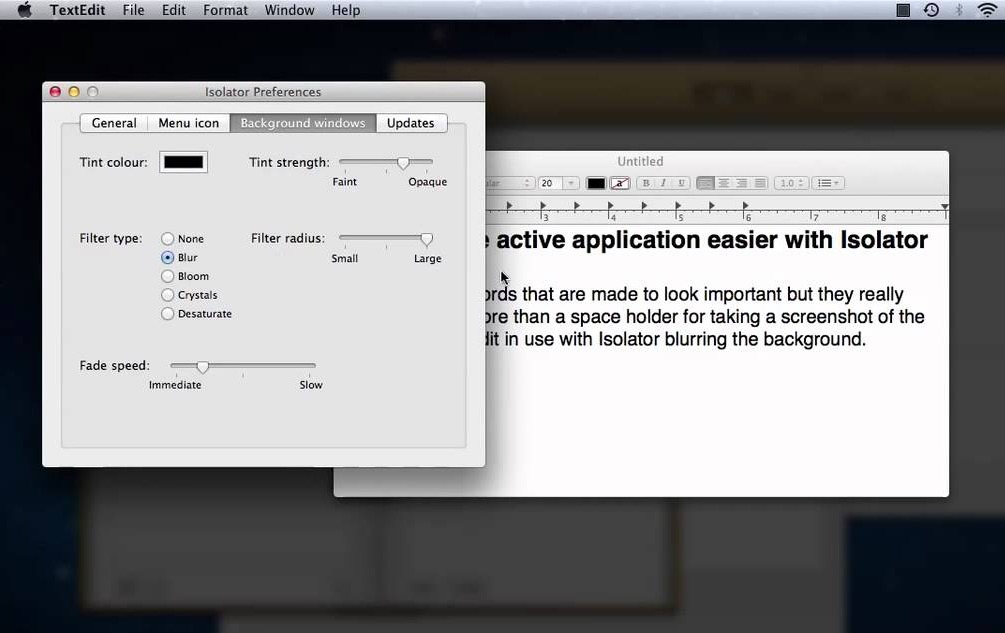 When you're working on a document and don't want to be distracted, turn on Isolator. It will cover up your desktop and all the icons on it, as well as the windows of all your other applications so you can concentrate on the task in hand.
Lacona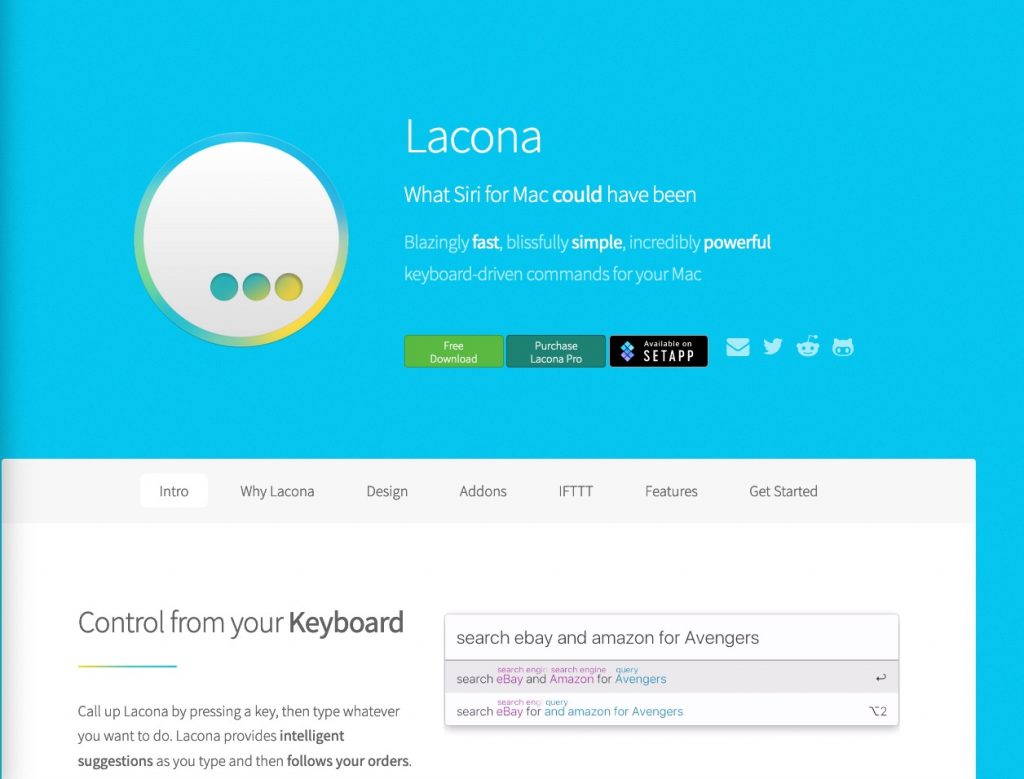 Lacona is what Siri for Mac could have been. It will do any job on your Mac, just type a command. Like Siri, you can ask the app to open files and applications, calculate numbers, set reminders, and schedule events.
Makerlog Menubar

Makerlog Menubar is a quick way to log your tasks to Makerlog, right from your menubar.
Mate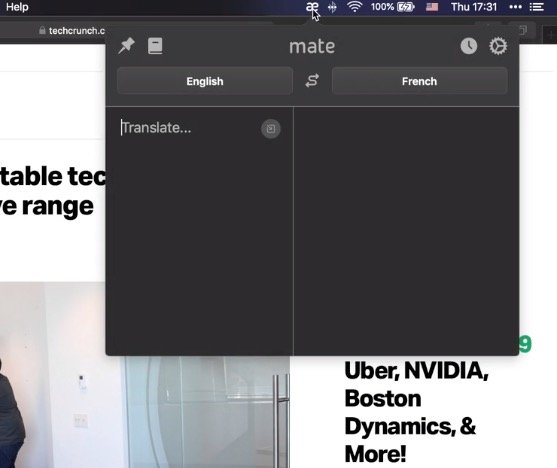 Translate & understand 103 languages in any app on your Mac. Quick access right from the menu bar.
MostRecent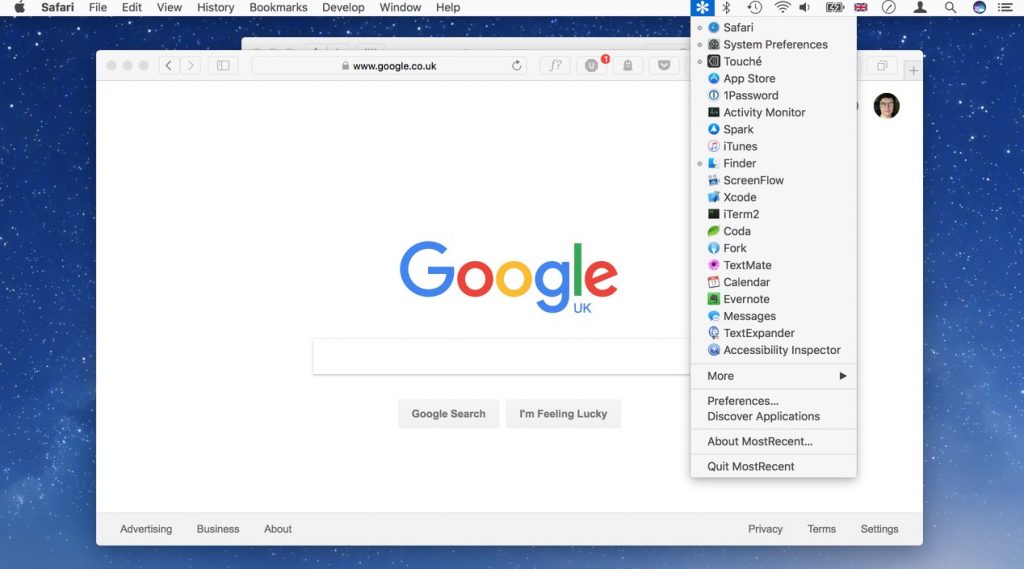 There are many keyboard-oriented launchers for the Mac, but users who prefer the mouse have fewer choices. Dock is limited, and Launchpad is chaotic. With MostRecent you can use your menu bar to launch apps most efficiently.
Muzzle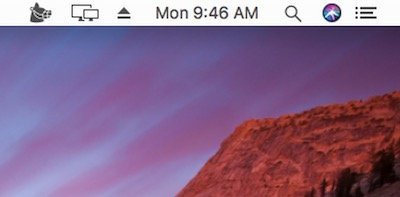 Muzzle runs quietly in the menu bar. When you start sharing your screen, it automatically enables 'Do Not Disturb' so that no notifications appear on your screen and interrupt or embarrass you during a meeting.
NewsBee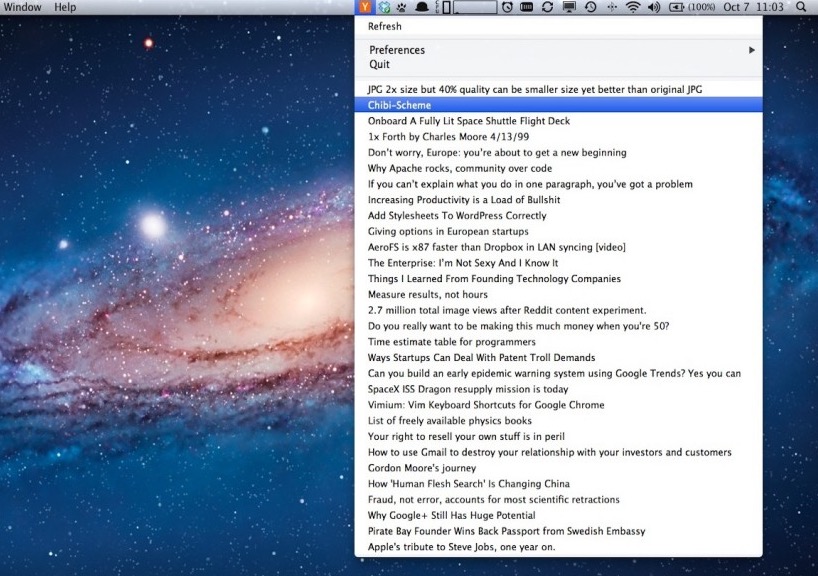 NewsBee NewsBee adds a similar drop-down menu to your menu bar. In contrast, the menu only shows articles from one feed at the time. You switch to another website with a click of the mouse.
Numi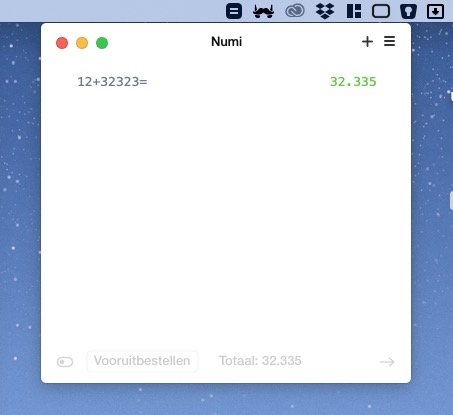 Numi is a calculator that blends math with text. Currency, units, time zones, numeral systems, variables, export, etc.
Percent Calculator

A tiny menu bar application that calculates percents.
Pliim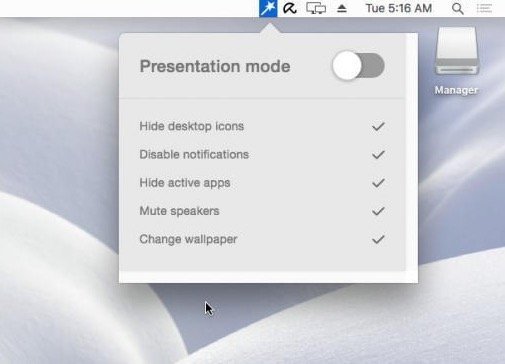 Plimm puts your Mac into presentation mode. This menu bar hides all the mess on your desktop and even disables notifications.
Pretzel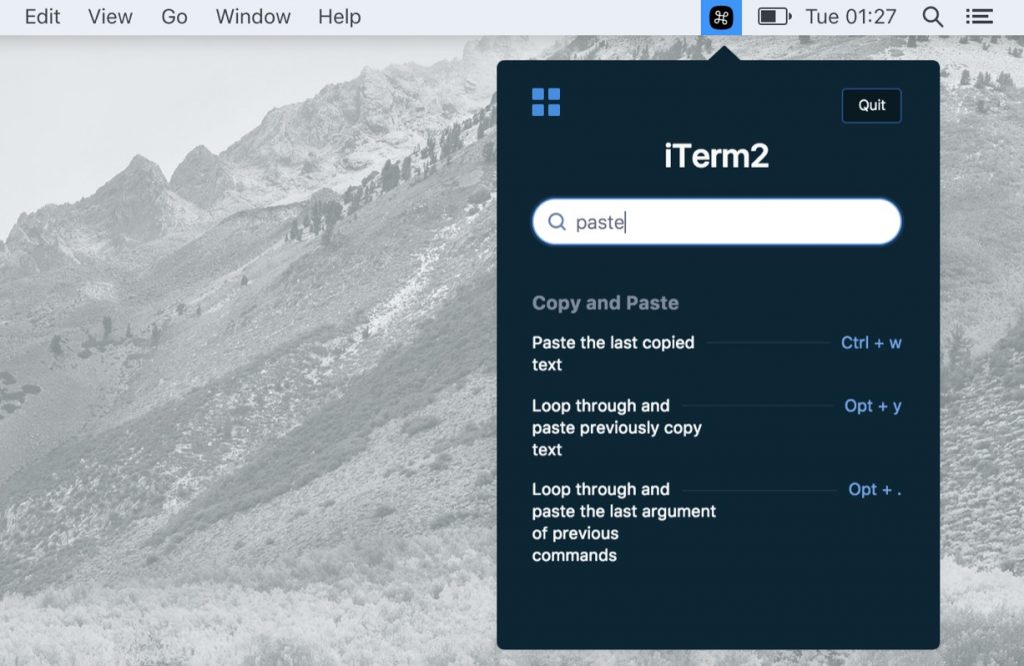 Pretzel shows and searches keyboard shortcuts based on your currently focused app.
QBlocker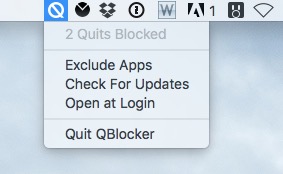 QBlocker stops you from accidentally quitting an app. It works by blocking OS X's default CMD + Q keyboard shortcut and forcing you to hold to quit. You can also choose to exclude apps from QBlocker.
Quitter for Mac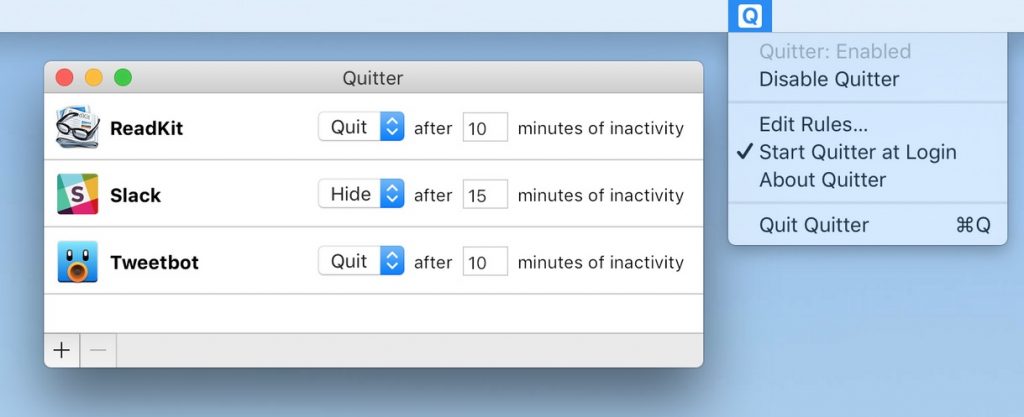 Quitter automatically hides or quits apps after periods of inactivity.
SelfControl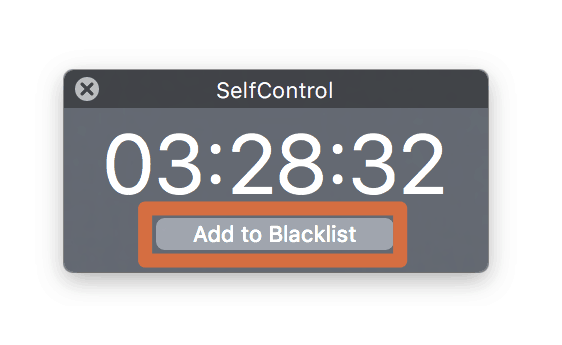 SelfControl saves you from the meaningless waste of time of websites like Facebook, Twitter or any other website you stick for hours. Simply add the websites which distract you from your work, set the timer and turn it on.
ShiftCase

This Mac menu bar app removes formatting from rich text and allows for easy text case changes without copy and pasting into a new window or app.
Start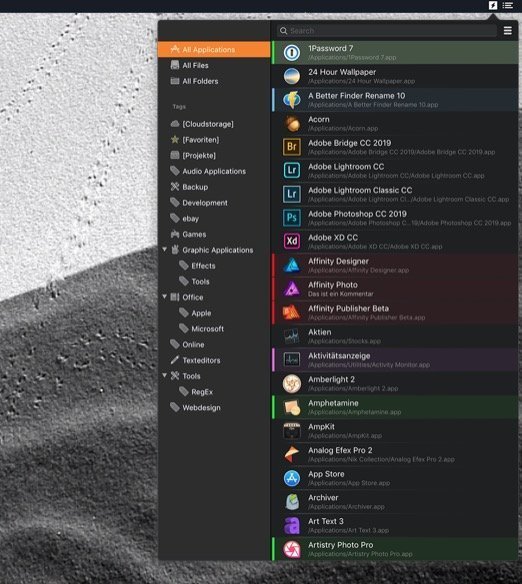 Innovative::bytes start is a launcher for macOS that allows you to open applications, documents or folders quickly and easily. Open your items with a simple mouse click in your menu bar.
Statsey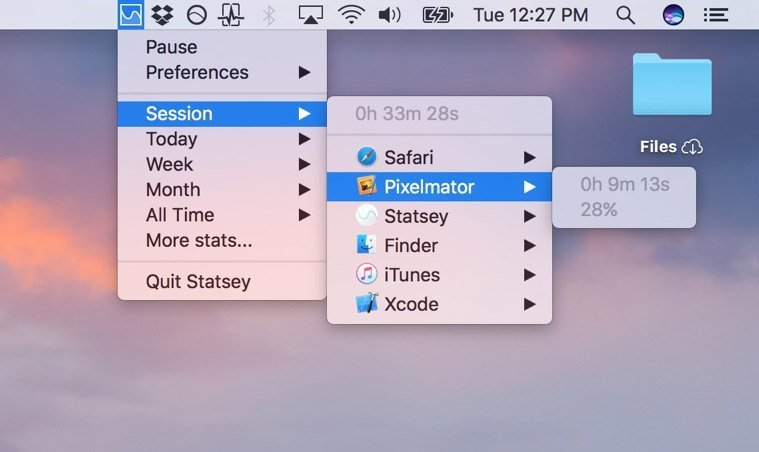 This menu bar app lets you analyze your app-usage habits, and find out how much they are impacting your productivity.
Text Expander

Also with TextExpander, you can store big blocks of text which you can quickly expand using a simple abbreviation or keyboard shortcut.
Typinator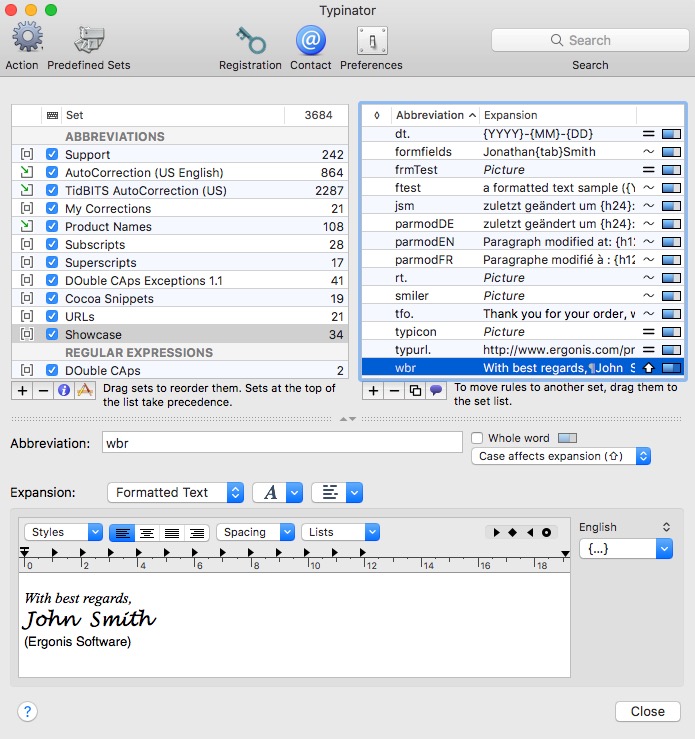 Typinator streamlines the reuse of commonly used phrases, terms, and images. It lets you insert phrases and pictures into any type of document.
WisdomBarOSX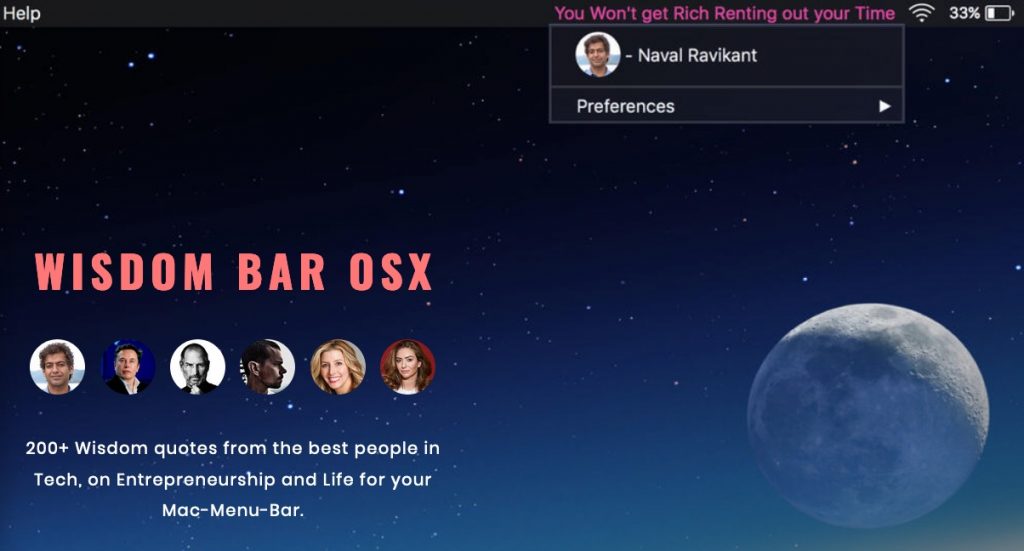 Boost productivity with bite-sized wisdom on Entrepreneurship and Life in your MacMenuBar from people like Naval Ravikant, Elon Musk, and Mark Cuban.
WorkspacePro
WorkspacePro allows you to launch and close a bunch of macOS apps from the menu bar, just in 1 click. How? Just by creating unlimited Workspaces with unlimited macOS apps.