Start a timer in seconds, try the Pomodoro technique or just looking for a (world)clock in your menu bar?
Check out these Mac Menu Bar Time Apps:
1440 Minutes Left Today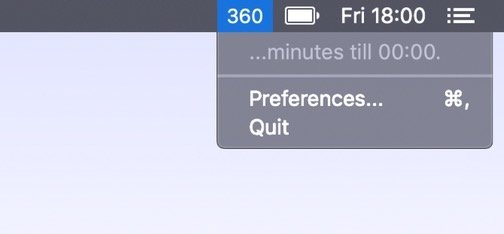 This simple menu bar app tells you how many minutes you have left until the day is over.
Aware

Aware tells you how long you are using your computer. It detects the movements of your mouse and the keystrokes on your keyboard. After a short time of inactivity (a break), Aware will pause the timer, then reset and start again when more activity is detected.
Awareness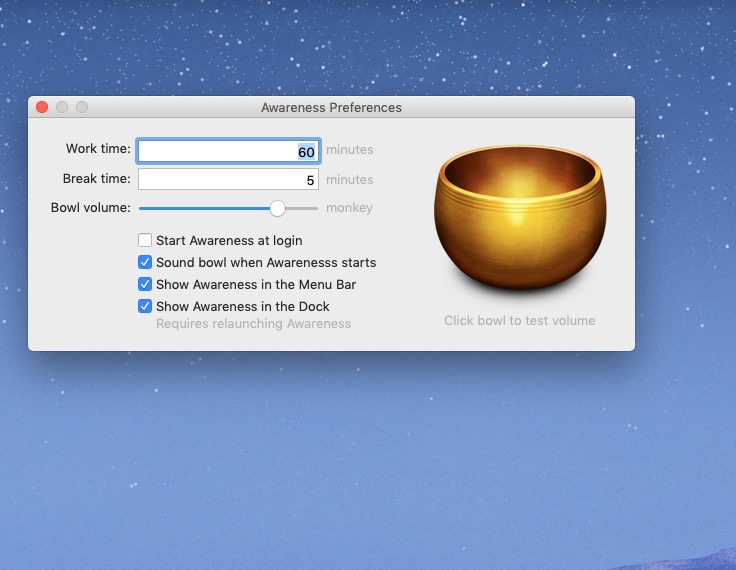 Awareness helps you become more aware of time spent on the computer by playing the sound of a Tibetan singing bowl to mark every hour of continuous computer use.
Clocker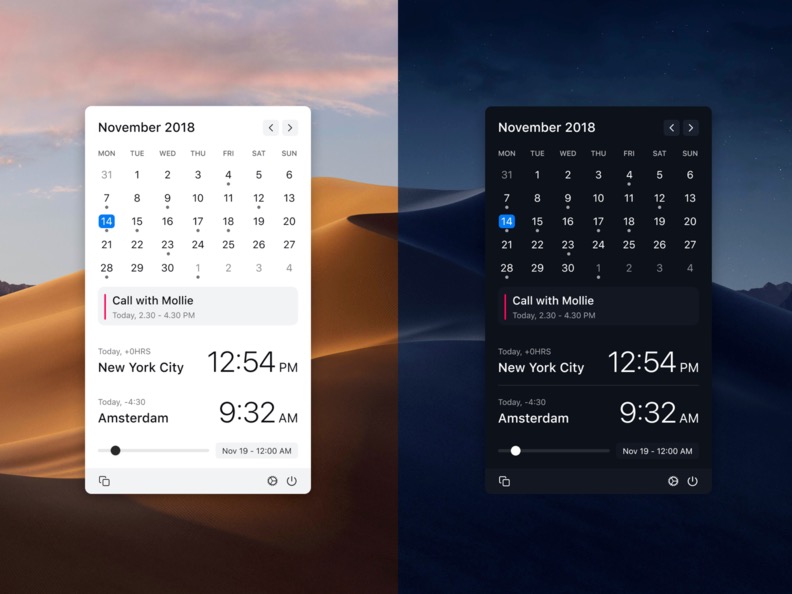 Clocker helps you keeping track of your friends and colleagues in different time zones. You can also add notes and create reminders.
CountdownBar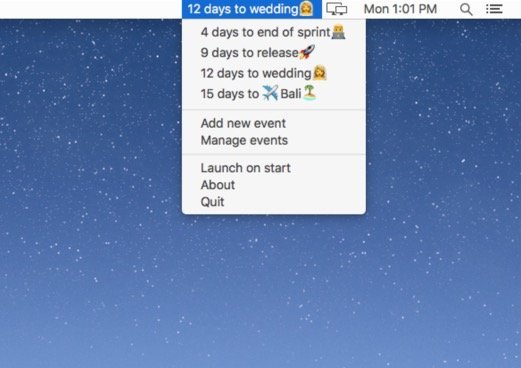 A minimalistic menu bar app that counts the remaining days to a particular date.
Countdowns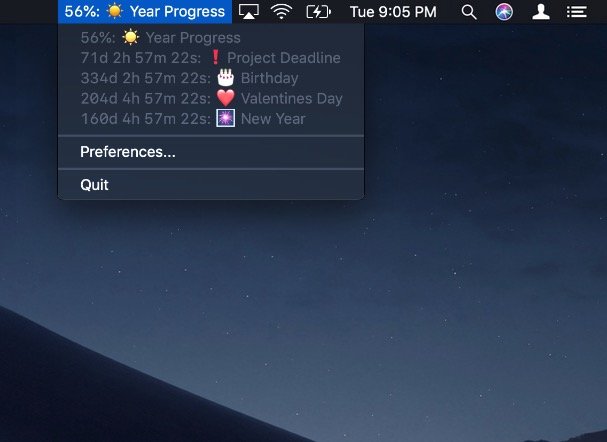 Countdown to events that are important to you. Birthdays, Holidays, Valentine's day, or next Blockbuster movie premiere. Keep them at the glance in your status menus.
Day Night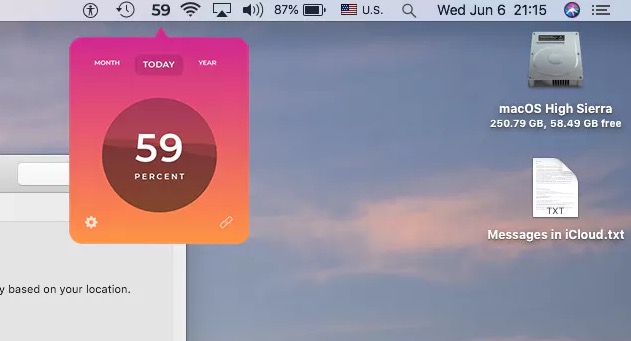 Day Night for macOS shows you how much time there is left in percentage. You can keep track of your current day, this month and this year's time in percentage. This app shoud kill all procrastination in you.
Dato
Dato is a replacement for the system menu bar clock. You get a small calendar, calendar events for the selected day, the current time in various time zones (even with custom names), week number, and more.
Day-O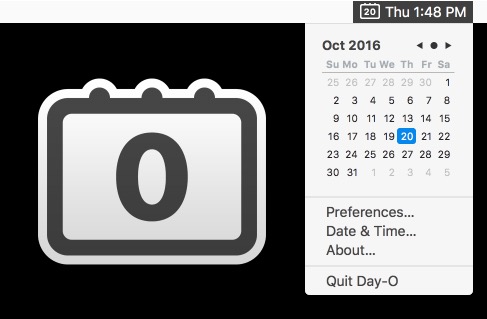 Day-O is a simple menu bar clock replacement with a built-in calendar.
Escape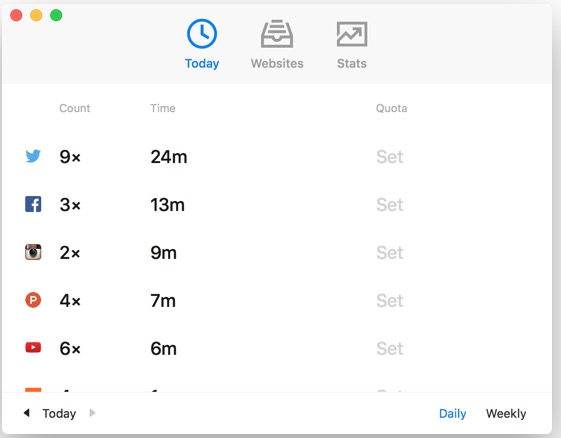 Sixty minutes on social networks every day equals 45 working days every year. You have better things to do. Escape tracks all your unnecessary trips to distracting websites.
FlagTimes

FlagTimes is a tool to quickly and easily see what time it is in other time zones within the Mac toolbar. The app is based on Apples own clock.
FuzzyTime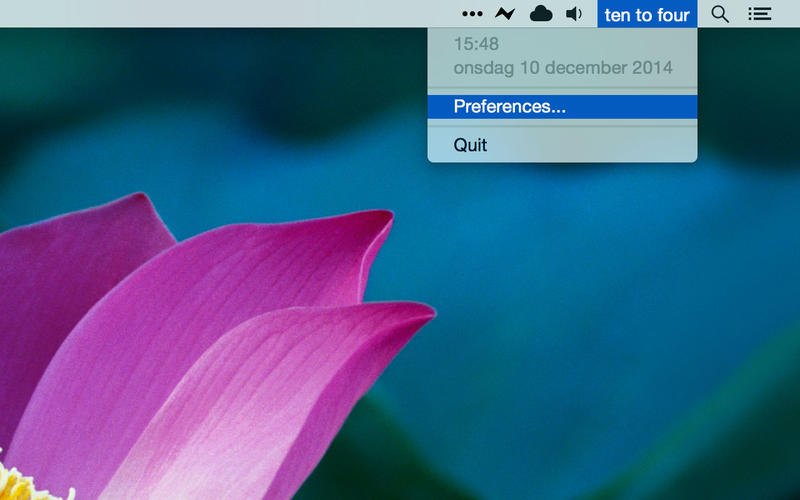 FuzzyTime is a simple, human readable clock in your menubar, that can be used instead of your computer's built in clock. Instead of 16:40, you would see "twenty to five".
Gestimer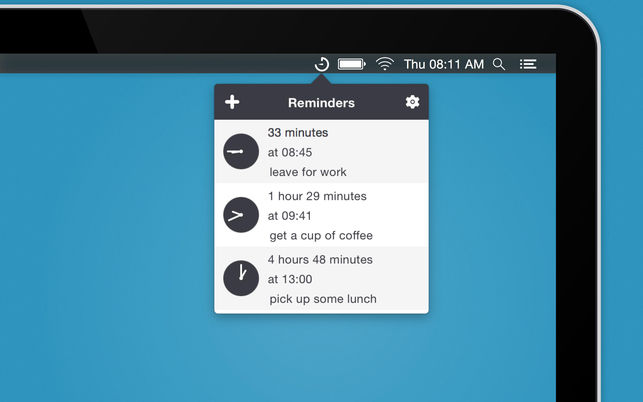 With Gestimer, you can create quick reminders. Simply drag the Gestimer menu bar icon onto the screen to create your reminder. Click on the icon to view all your reminders as a list.
Harvest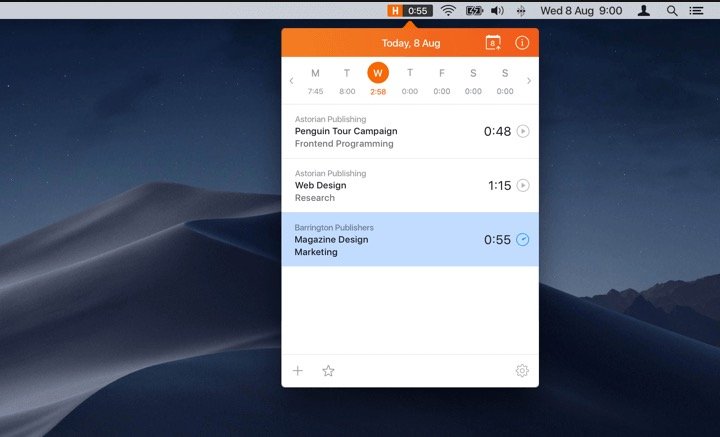 Track time and review your hours for the week without interrupting your workflow.
Horo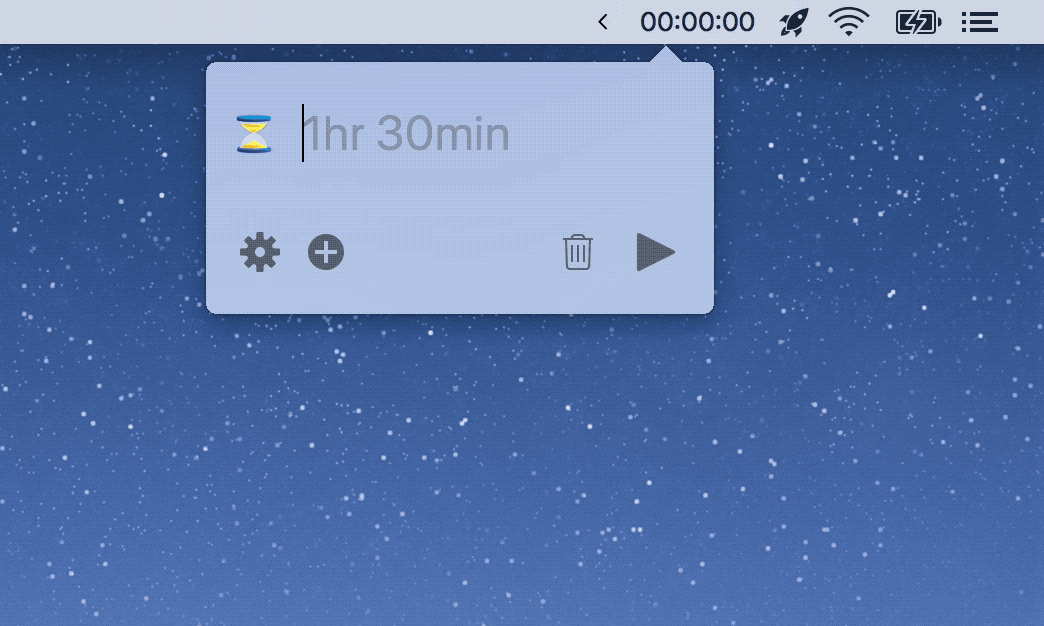 Horo is a free timer that uses a simple and speedy natural language interface. Type the time, hit return, and go.
iClock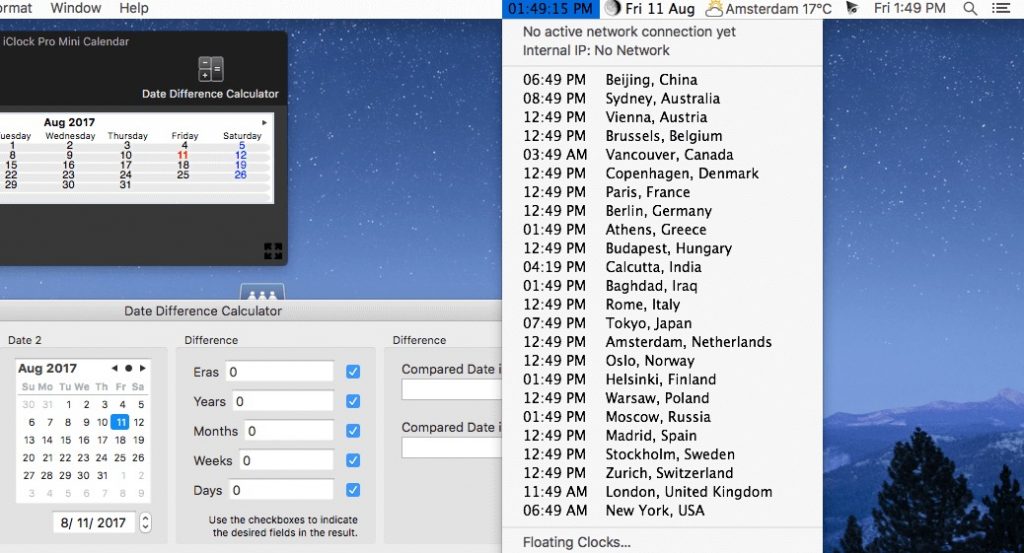 This menubar clock replaces the limited time app in the menubar with a drop-down menu of the current time/date in any city in the world, time & date simultaneously in any format, font or color, instant calendar, stopwatch, moon phase, floating clocks, and much more.
Instant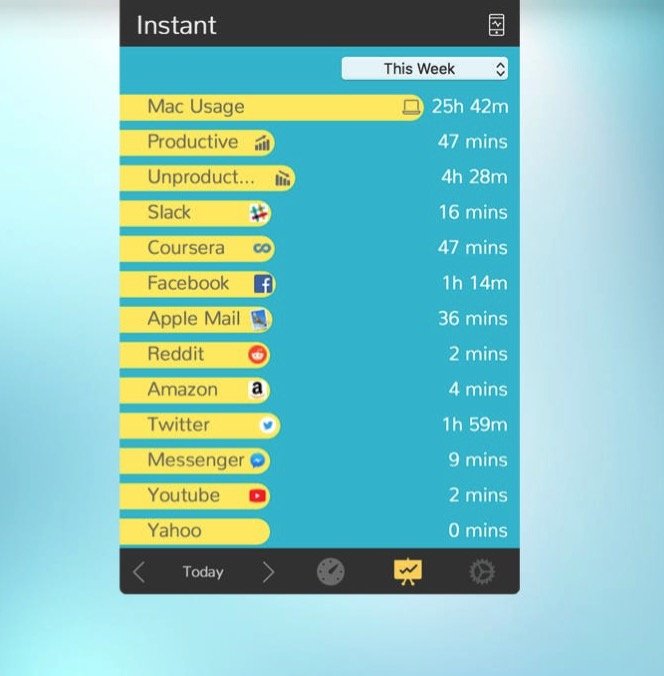 Track the productive and unproductive time you spend on websites in your Mac Menubar.
Klokki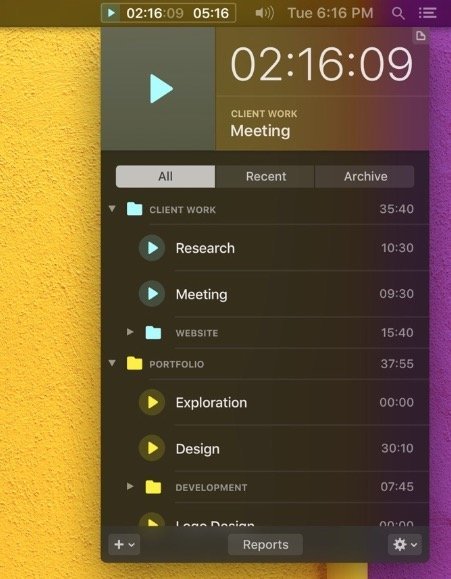 Klokki delivers a powerful way of time-tracking directly from the Menu Bar. The timer gets out of your way and always stays just a click away in the menubar. Klokki Slim is the free version of Klokki: just without auto-tracking.
Mater
Mater simply runs a 25 minute timer, resets for a 5 minute break, and repeats until you stop it.
Menu World Time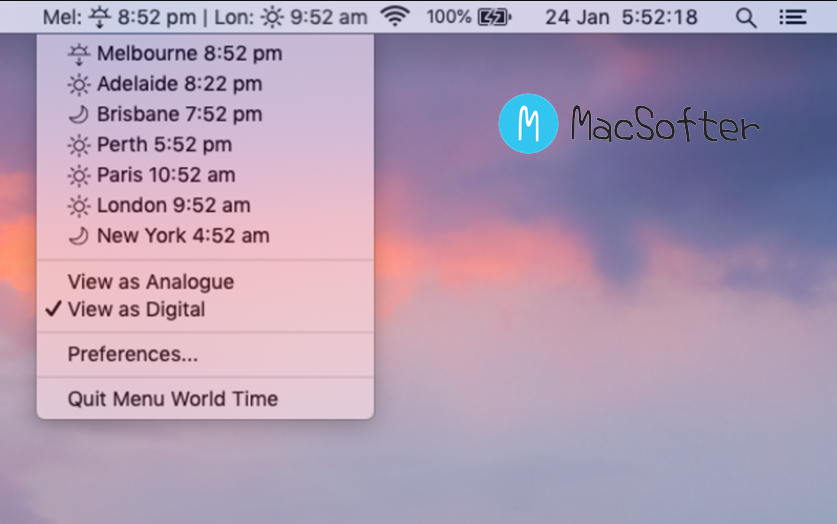 A little Mac app showing the local time of as many places as you'd like in your menu bar – or collapse them all into a drop-down menu. It shows a clock for each city right in the menu bar. Click the icon in the menu bar to quickly see city times.
Mindfulness Bell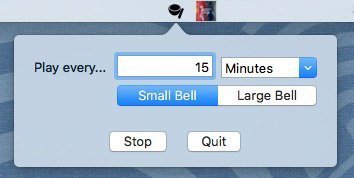 Simply choose an interval and a small or large bell will sound at the prescribed time.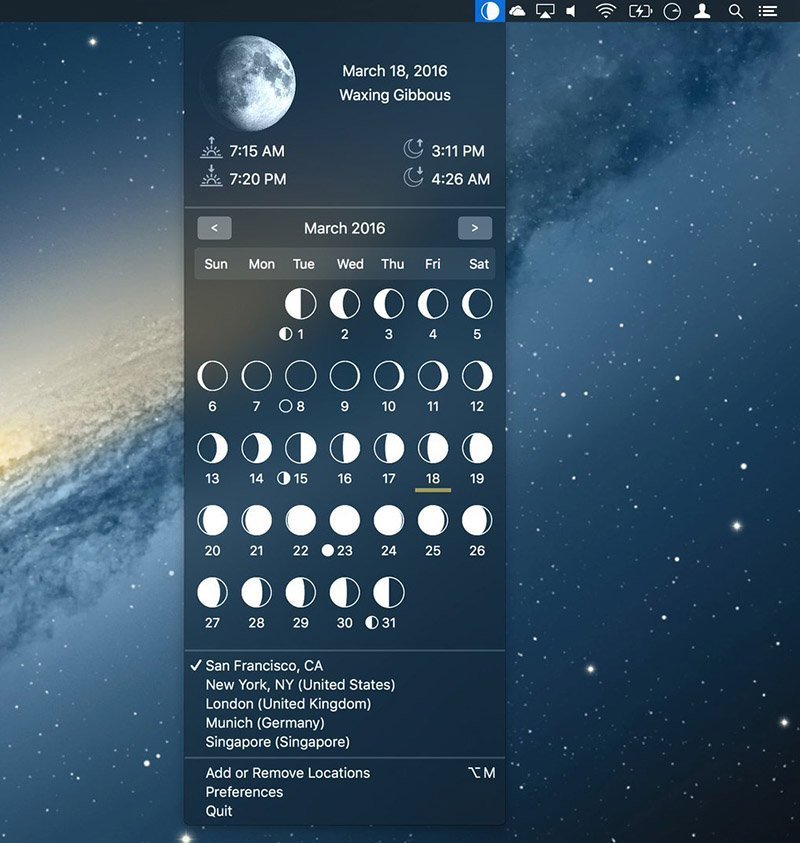 Get sunrise, sunset, moon rise, moon set times along with the moon phase calendar right from you menu bar.
Overdo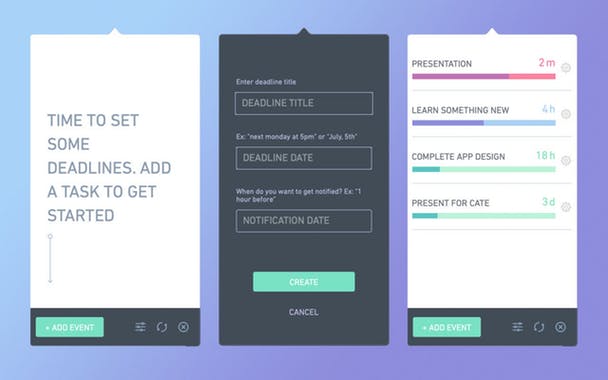 Overdo is a menu bar app that lets you quickly and easily schedule deadlines.
Pomobaro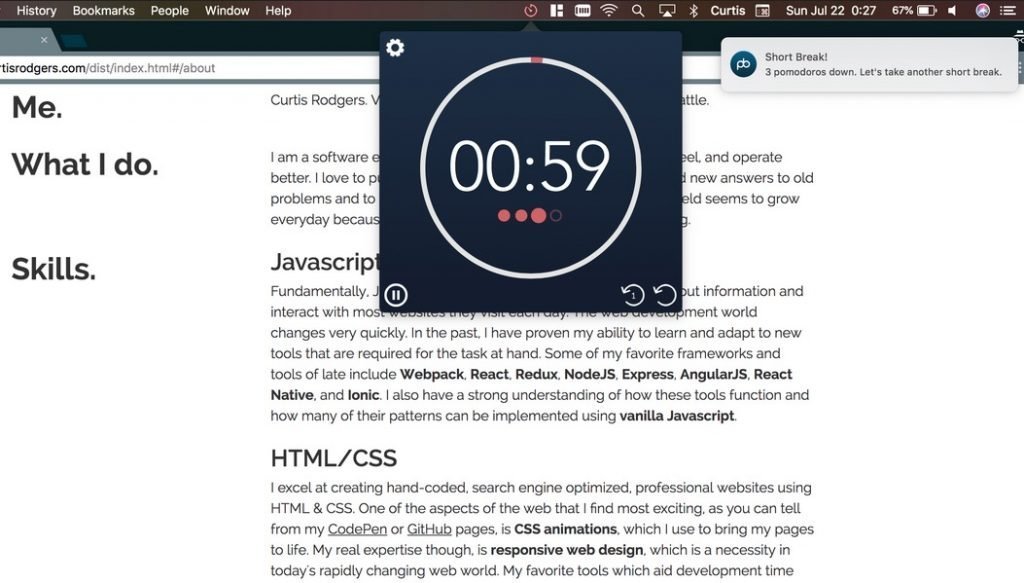 A simple pomodoro timer that lives (of course) in your menu bar.
Pomo Timer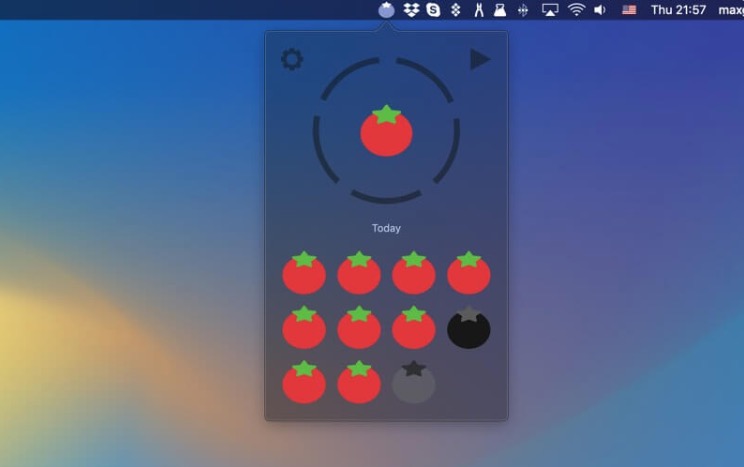 Simple and convenient pomodoro timer made in a simple and clear design.
Pomolectron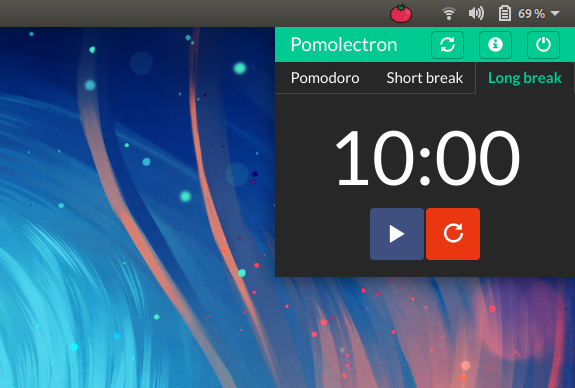 Another Pomodoro timer that lives in your menu bar. Supports dark mode.
Progress Bar OSX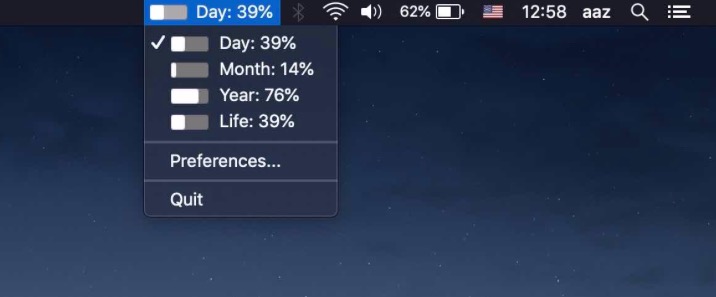 This app shows you exactly how much percent of the year, month and day has progressed in your OSX menu bar.
Red Hot Timer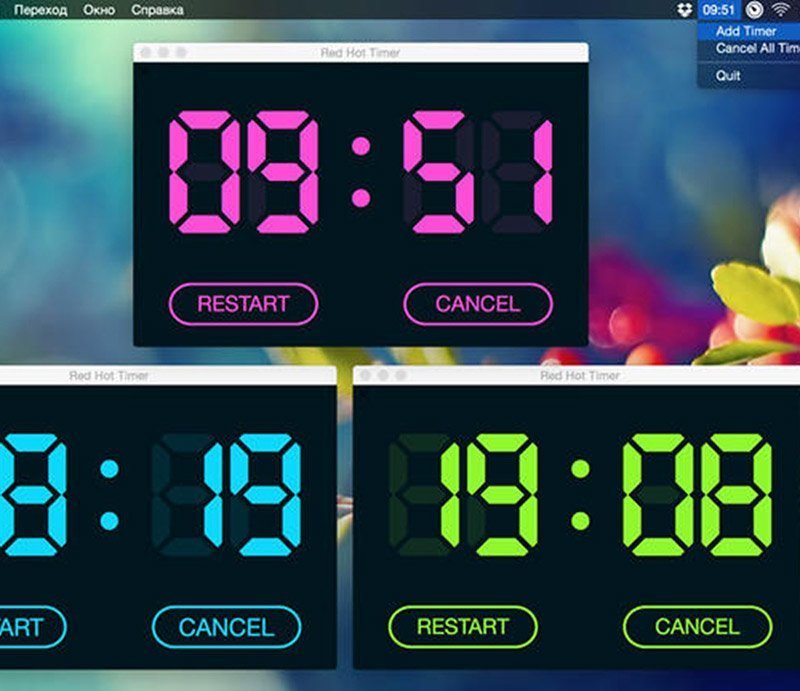 Set the timer in one touch, just take and drag. The timer is displayed on top of other windows, even if you're in full-screen mode.
RescueTime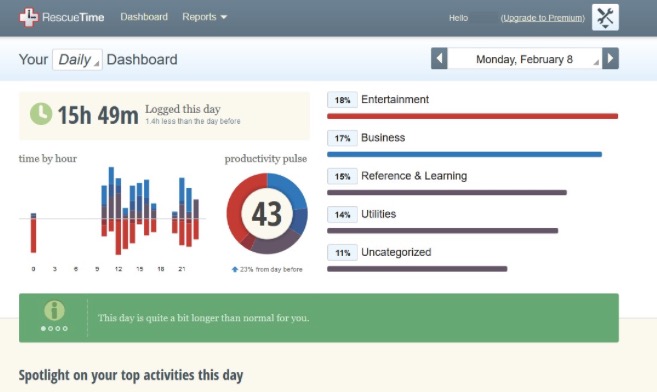 RescueTime is a time-management tool that runs securely in the background of your computer. The app keeps track on the time you spent on applications and websites, giving you an accurate picture of your working day.
Stand Up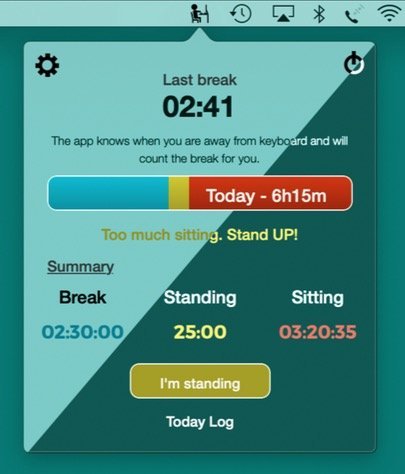 This menu bar app reminds you to take a break as often as you want. And you can't trick it: it knows exactly when you're away from the keyboard.
Tadam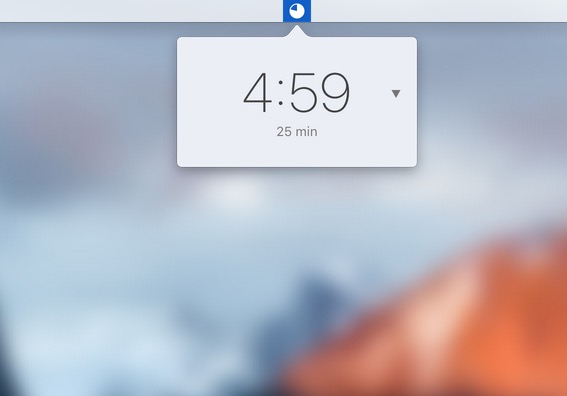 Tadam is a simple Pomodoro timer that stays out of your way. The app helps you stay focused at work by reminding you to take regular breaks. Work for 25 minutes – Take a 5-minute break – Repeat. Every four cycles, take a longer break.
Take a break – timer, reminder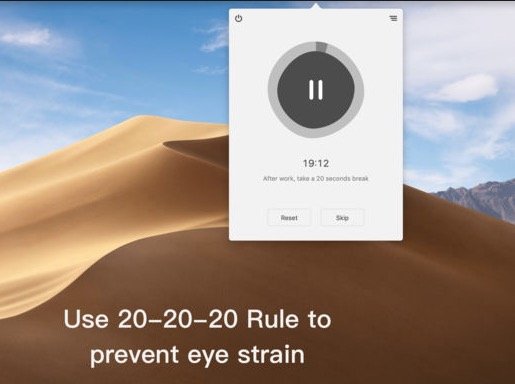 Use 'Take a break' to remind you to take regular breaks that help you relieve eye strain. As the doctor mentions, every 20 minutes spent using a screen, look away at something that is 20 feet away for a total of 20 seconds.
TeamWatch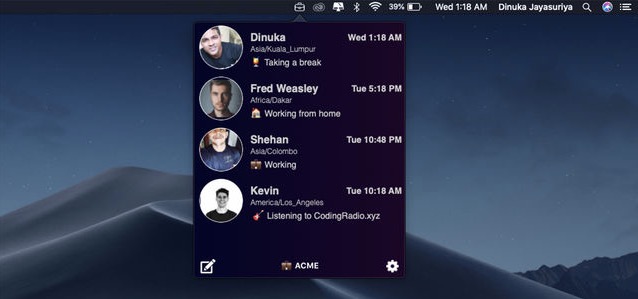 TeamWatch is a timezone tracker and simple communication tool for your team.
There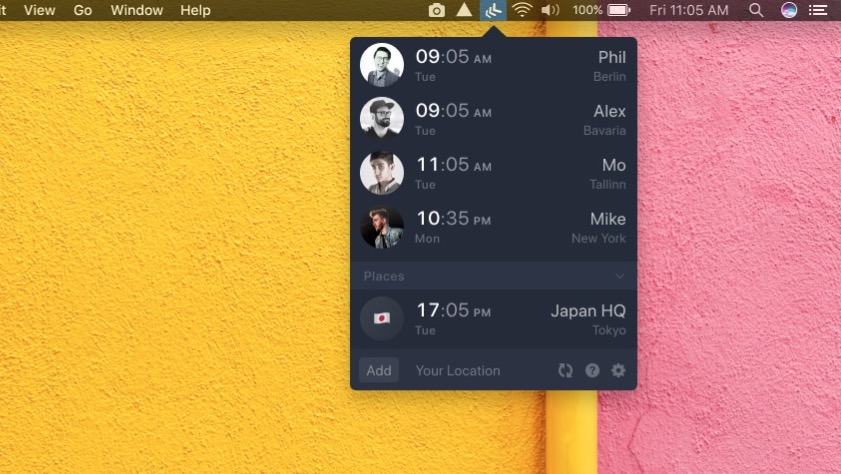 Never think of timezones again. Follow your family members or teammates and have their local time, no matter if they move.
Thyme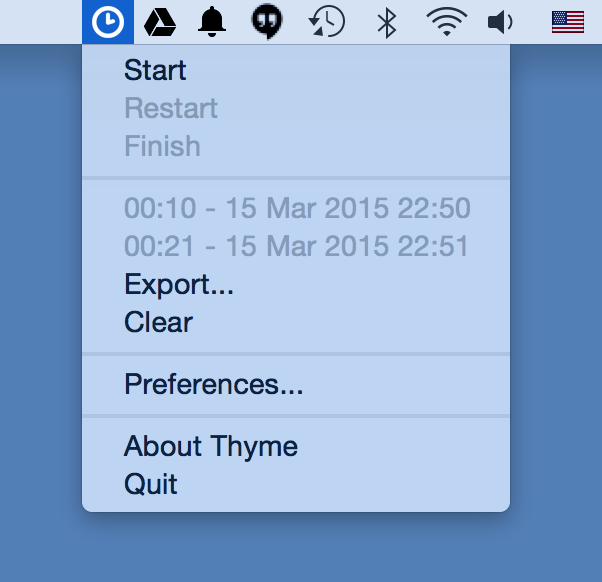 Use Thyme to keep a record on how much time you spend on your tasks such as work or study, as well as anything else that requires a timer.
Tim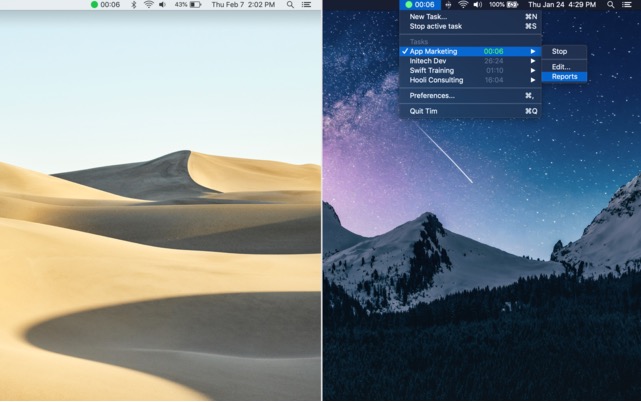 A simple, minimal time tracking app with various time formatting & display preferences. Create, track, and edit multiple tasks.
Time Zones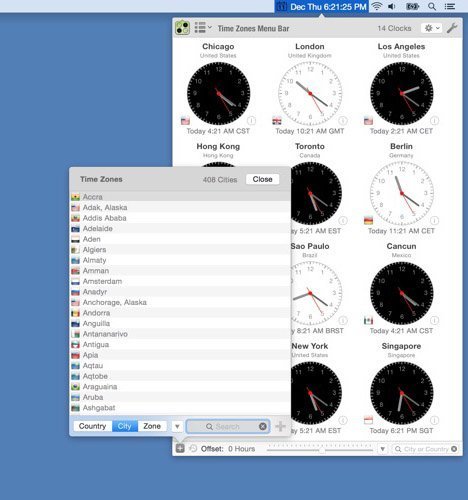 This menu bar app helps you to track current time and time zone information for multiple cities. Display over 400 Times Zones Clocks then search by city or country to find exactly what Time Zones Clocks you want to view.
Timelancer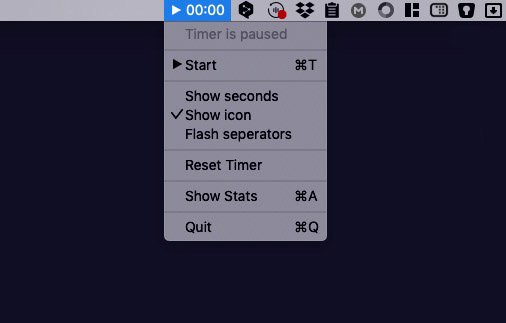 Timelancer records how much time you spend on each app. It automatically stops recording on idle time.
Timeless

The menu bar app Timeless gives you a generic idea of what part of the day you're in: morning, lunch time, noon etc. By making the clock less specific, it reduces the sense of dread some hours of the day might give you.
TimeOut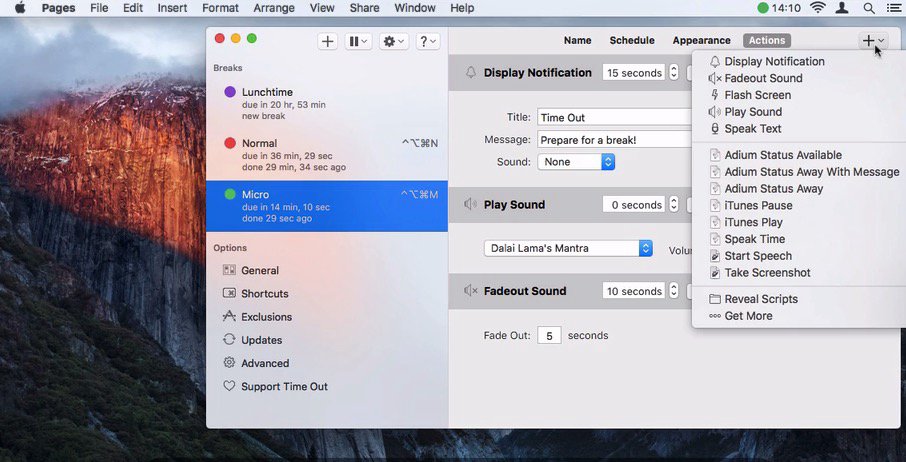 TimeOut gently reminds you to take a break on a regular basis. For instance 10 minutes every hour, and 15 seconds every 15 minutes.
TimeProgress
TimeProgress shows you what percentage of the current year, quarter, month, week or day has passed (or is remaining).
Timestamp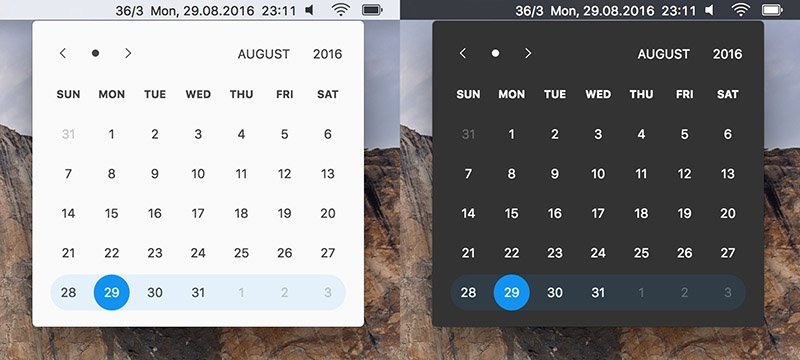 A macOS menu bar clock with a fully customizable date/time display and a calendar. Inspired by Day-O.
Tomato One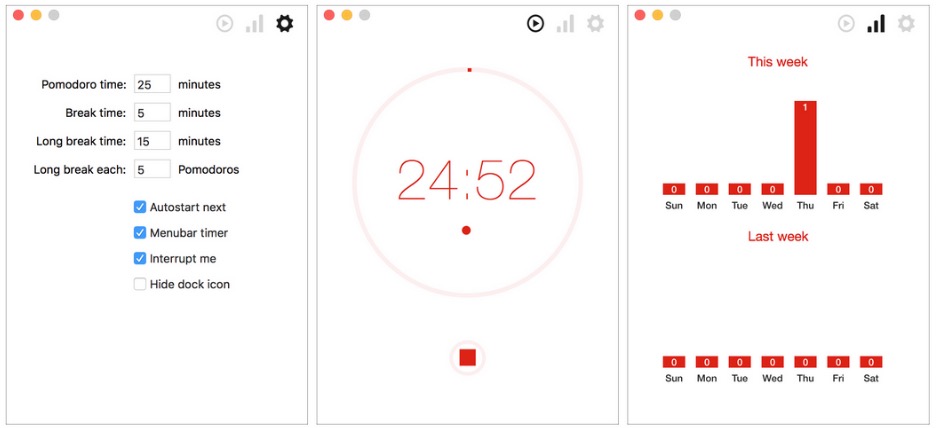 Simple application for MacOS (and iPhone) for increasing personal productivity using Pomodoro Technique.
Tomighty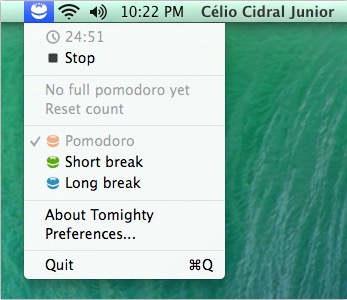 Tomighty is a menu bar timer specifically designed for the Pomodoro Technique.
Usage
A simple menu bar app for tracking your application usage. Your tracking data is saved on your Mac only.
World Time in Words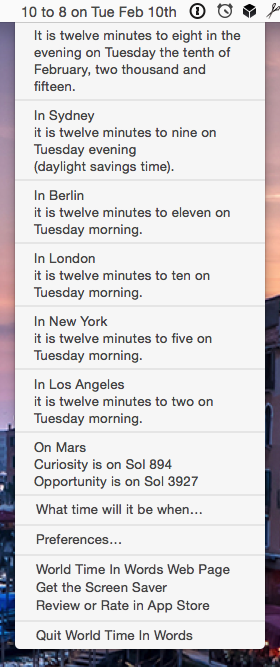 World Time In Words takes you away from numbers. This menu bar app displays your current time and date in words. Optionally, it can be set to display a number of time zones.