Running a Mac should be a hassle-free experience. However, they're not immune to issues and MacOS' system monitor isn't that great to just glance at your overall system health.
Check out these Mac Menu Bar System Tools Apps:
Airpass

Status bar Mac application to overcome time constrained WiFi networks. By renewing your device's MAC address, the wifi network will not identify your computer and therefore is tricked into thinking it's a new device.
Airtool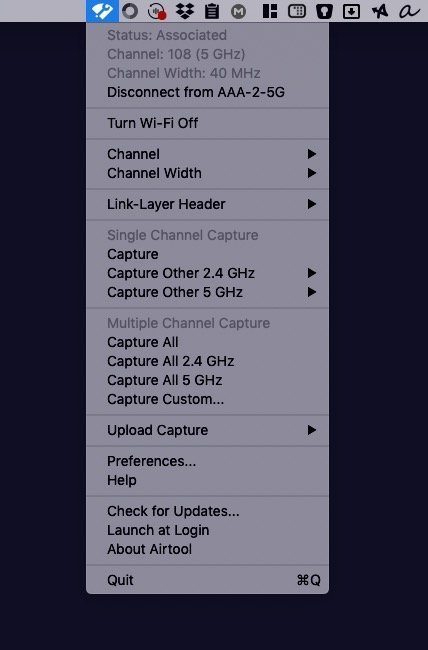 A free menu bar tool to diagnose your Mac's wifi. Airtool allows you to perform frame captures using your Mac's built-in Wi-Fi adapter with only a few clicks.
Almighty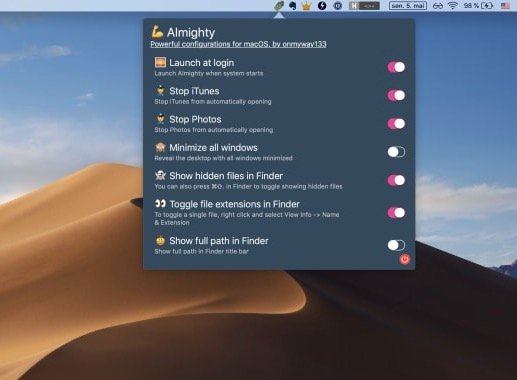 Almighty exposes powerful configurations for your Mac, like stopping alerts for installing new major release of macOS, stopping iTunes from automatically opening and much more.
Analytics Bar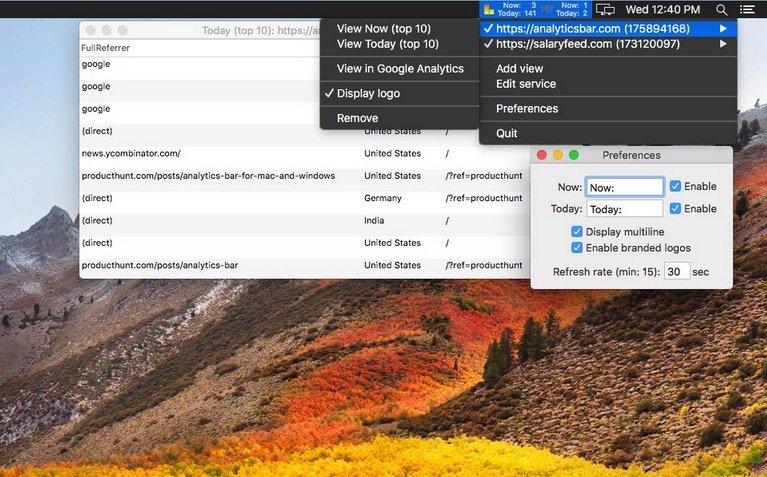 Realtime Google Analytics in your menu bar! This application delivers real time / current Google Analytics stats for the day of all your tracked websites.
App Tamer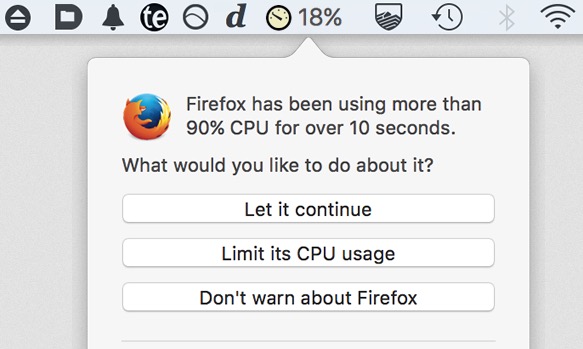 App Tamer automatically slows down or pauses your applications whenever you're not using them, greatly reducing their CPU use.
Bandwidth+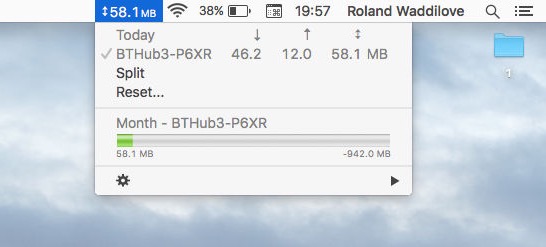 Bandwidth+ tracks your Wi-Fi hotspot usage and network bandwidth usage on various networks.
CPU LED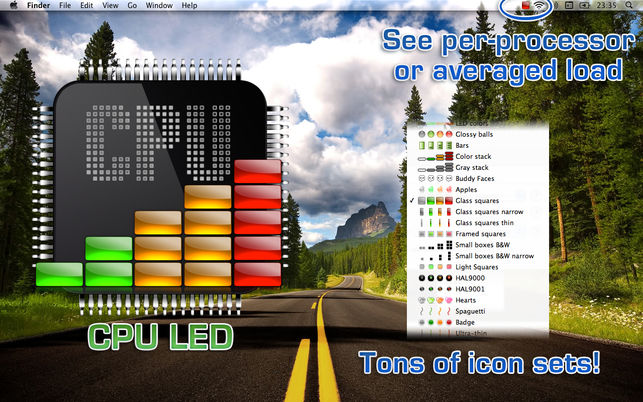 Do you ever wonder how stressed your CPU is? Sometimes all you need to know is that your CPU is working hard. CPU LED adds a LED in your menu bar indicating your CPU activity.
Fanny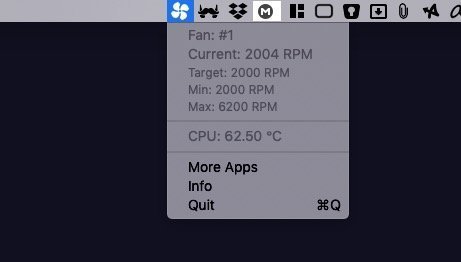 Fanny is a free menu bar app to monitor your Macs fan stats.
Find My Ip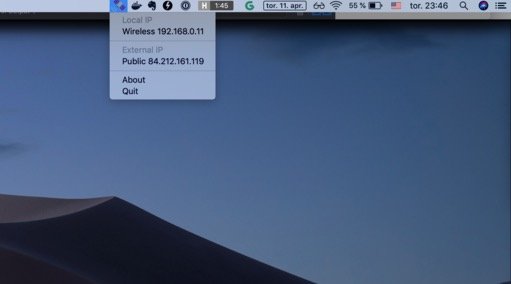 A free menu bar app that shows your local and external ip addresses (wired and wireless interfaces).
HDDfancontrol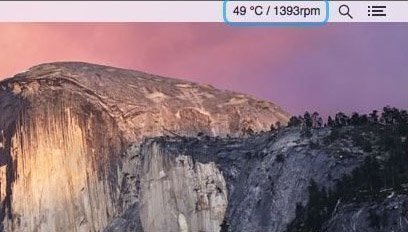 HDD Fan Control controls the fan speed in relation to your drive's temperature. It even slows the fan down preventing the loud noise and keeping your drive safe from overheating.
iBoysoft NTFS for Mac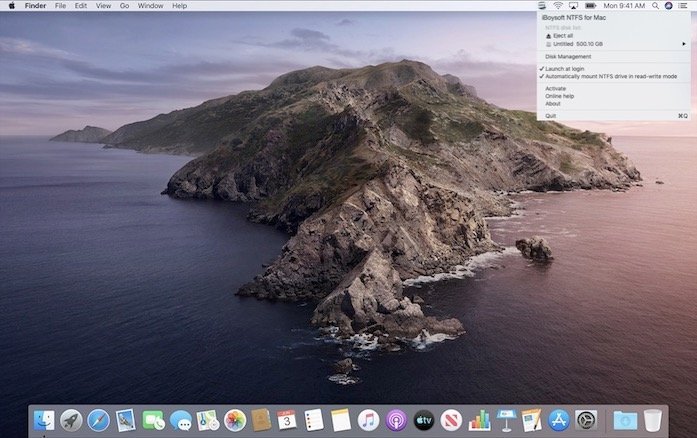 This menu bar app helps you to read and write to NTFS formatted drives on Macs and transfer files between Macs and PCs.
iGlance
iGlance displays current stats about your Mac on the status bar. It is built to be highly customizable so that everyone can adjust it to his/her needs.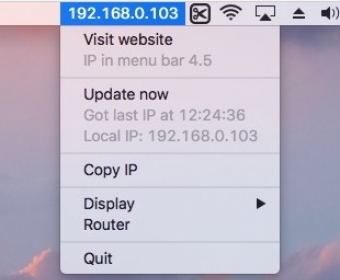 This small application runs in the background and shows your current IP address in the menu bar. If you are behind a router or gateway you can still see your local IP address in the menu.
IP Man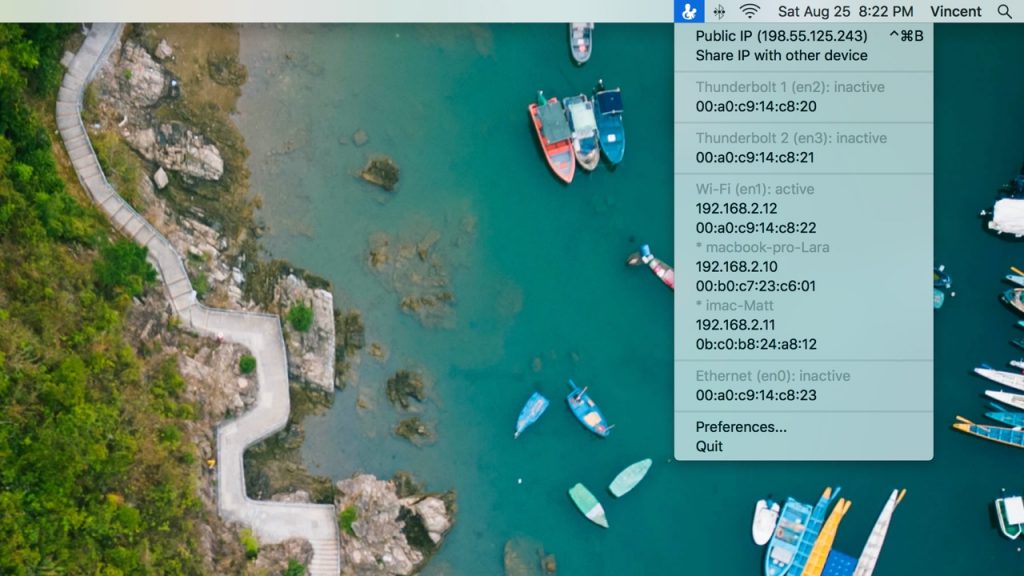 Stop googling to check your IP address. IP Man displays your public IP in your menu bar.
iStat Menus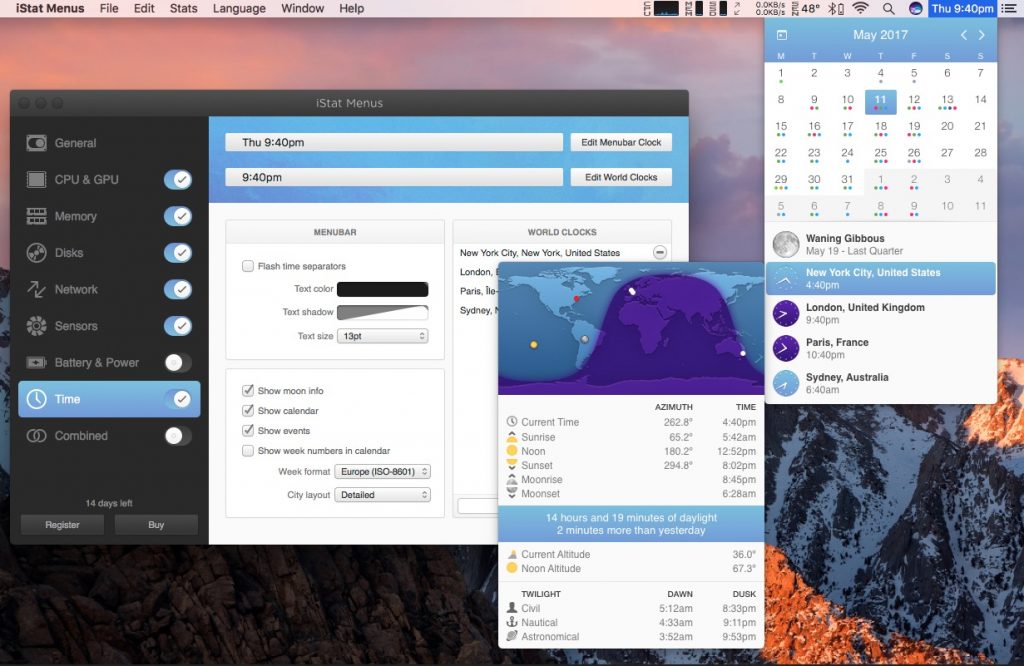 iStat Menus provides tiny graphs in the menu bar. Click them and they expand into a wealth of info about your CPU, GPU, memory, network, disk usage, disk activity, temperatures, fans, battery info and more.
Loading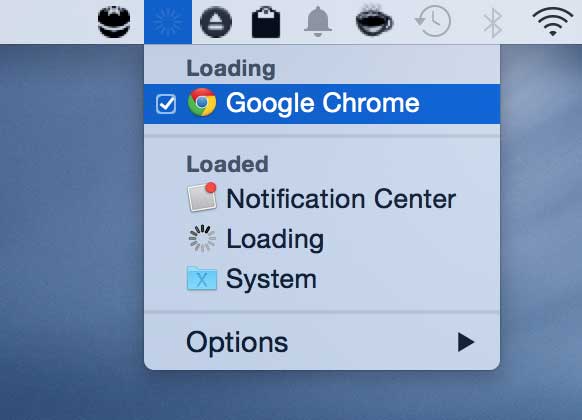 Loading shows you in your menu bar when apps are using your network. Much easier than the Network section in Activity Monitor.
MenuBar Stats 2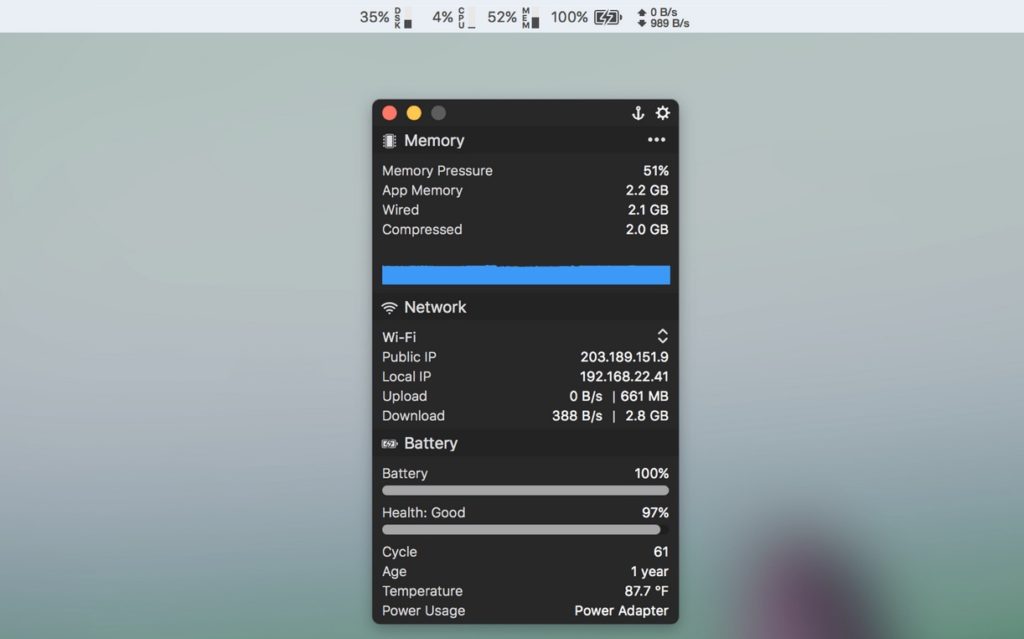 MenuBar Stats 2 is composed of modules (CPU, Disk, Network, Memory, Battery, etc). Each module can be seen in your menu bar.
MiniUsage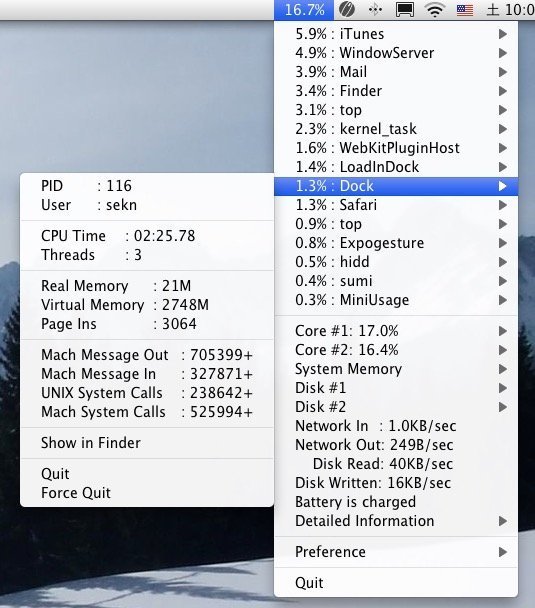 MiniUsage is a menu bar app that displays various data like CPU usage, amount of network flow, battery status and process names which uses much CPU time.
Mountain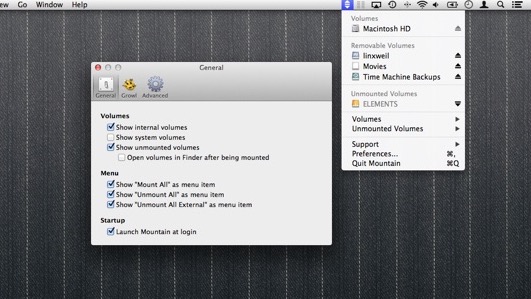 Mountain allows you to mount, eject and remount external volumes without the need of unplugging cables. It automatically ejects all external volumes when the system is going to sleep and mounts your favorite network drives when recovering from sleep.
Netler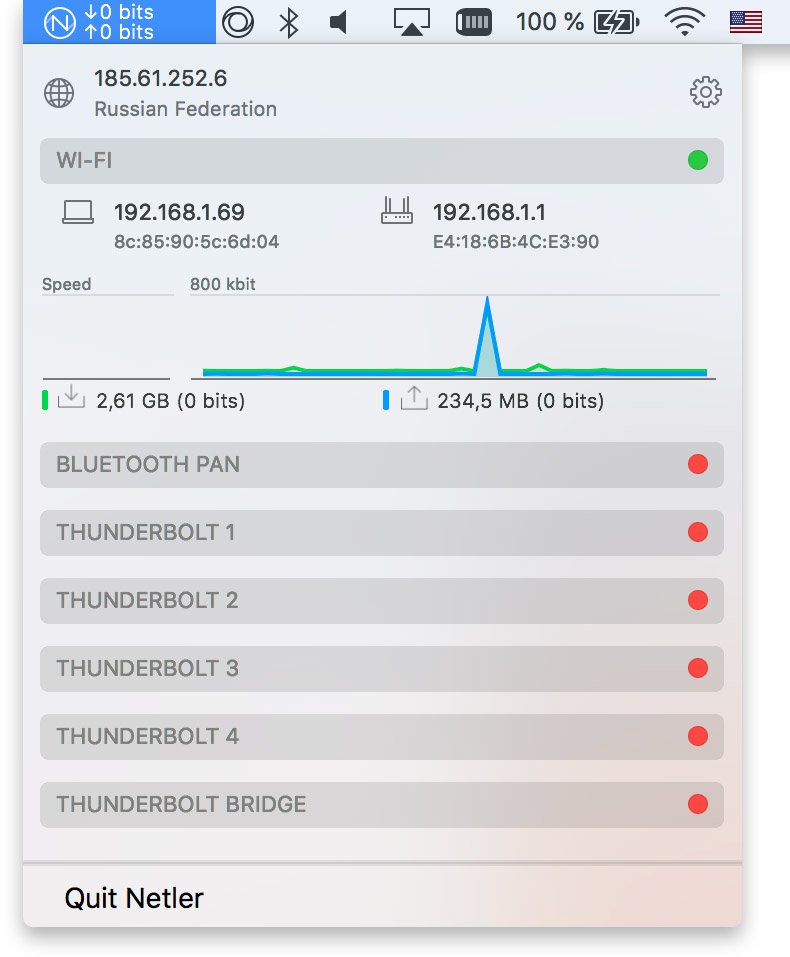 Tiny network monitor for your menu bar (and notification center) to monitor what's going on with your network connections.
One Switch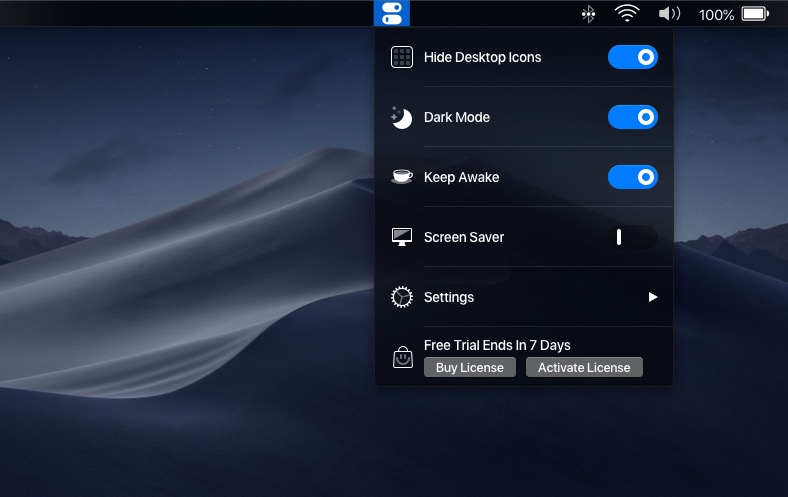 Hide Desktop Icons, Dark Mode, Keep Awake and a Screen Saver. One Switch is a little menubar app for macOS, it keeps all your powerful switches in one place.
PeakHour 4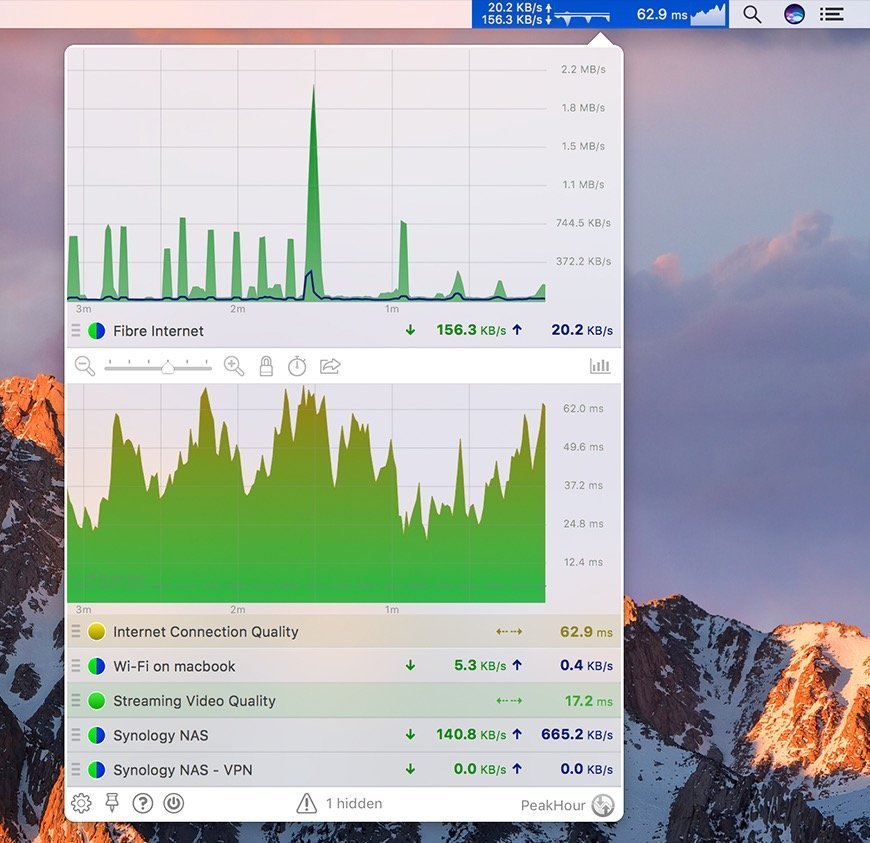 Monitor your Internet performance, usage, connection quality and lots more, right from your menu bar.
Ping Man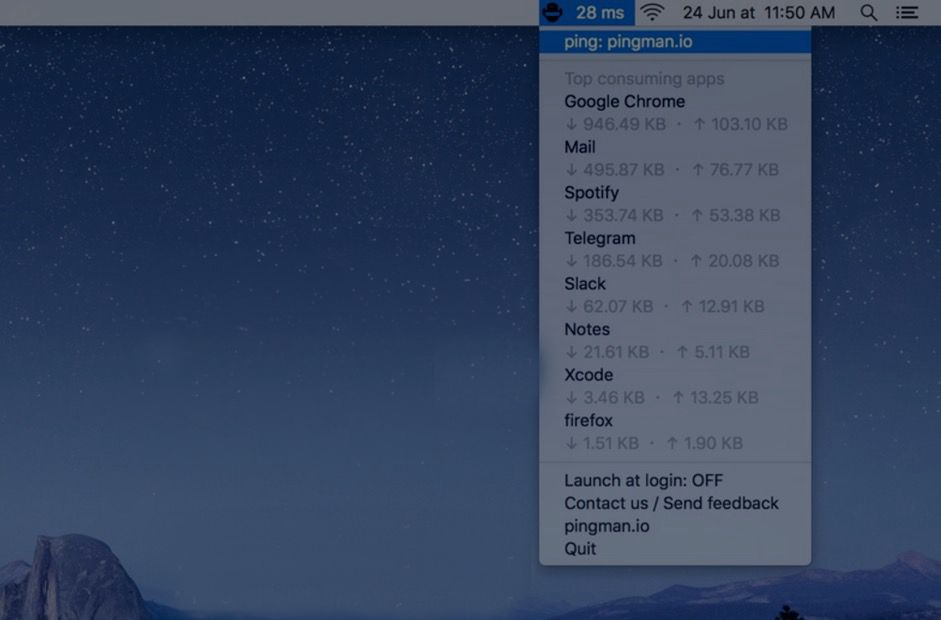 A Mac menu bar app to check your ping and monitor your bandwidth usage.
PingBar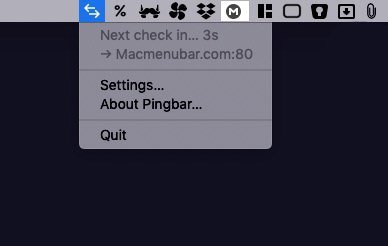 PingBar keeps an eye on your server. It will ping your server periodically, and show you the delay in the menubar.
Pingey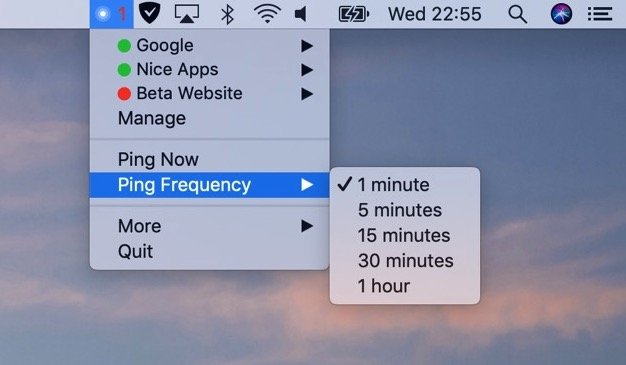 Pingey sits in the menu bar. Click on the icon to see the status of all your websites. Or add separate menu bar items for your most important sites.
RunCat
This cat runs at the speed according to the CPU usage of your Mac. By looking at its running, you can see how much your CPU load is.
Semulov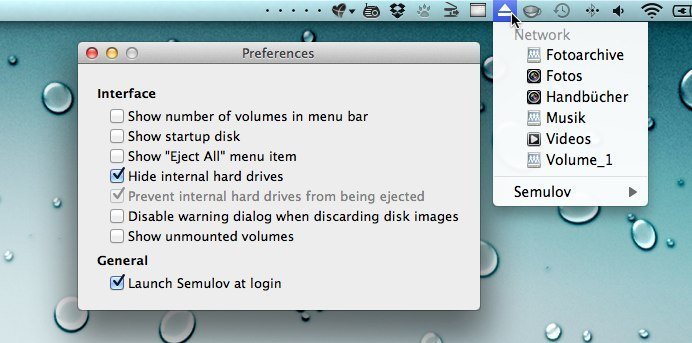 Access mounted and unmounted volumes right from your menu bar.
SimplePing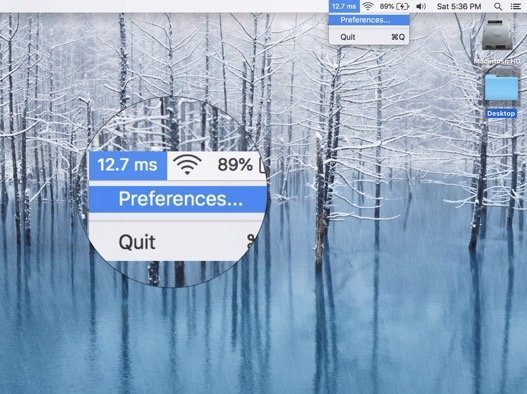 Check your internet connection quality directly in the menu bar. The ping updates in realtime.
Smart Reporter

Smart Reporter sits quietly on your Mac's menu bar indicating the status of your hard drive, ready to warn you of some hard disk drive failures before they actually happen.
Speedtest for Mac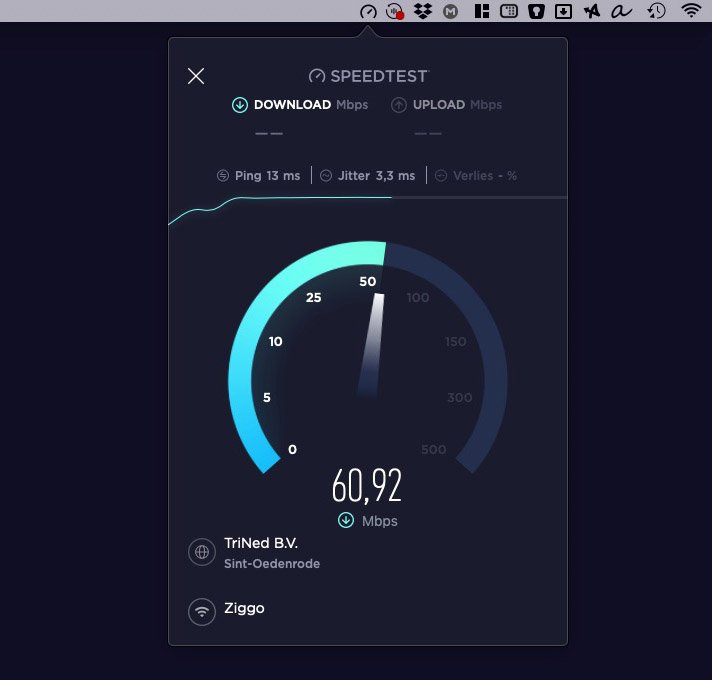 Launching a Speedtest straight from your Mac menu bar is the quickest way to check your connectivity.
TripMode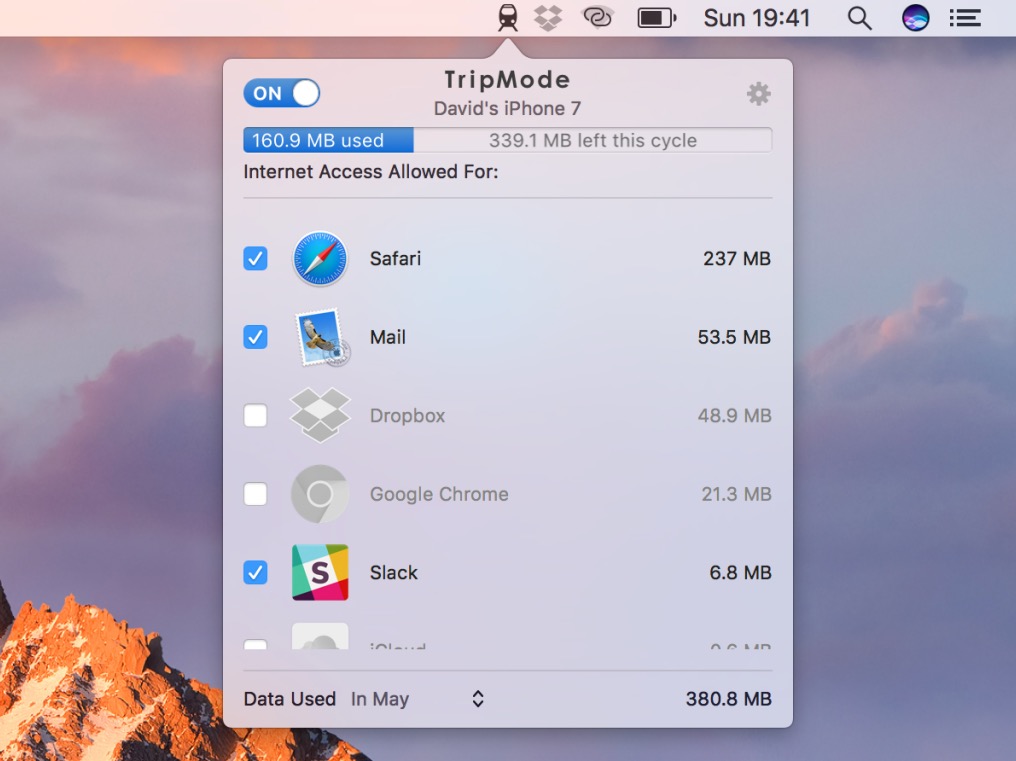 With TripMode you can prevent apps from connecting to the internet when you are using a mobile hotspot. This prevents unexpected bills for high data usage on your mobile plan.
Up&Down

This menu bar app monitors upload and download speeds. That's all!
UpTimeBar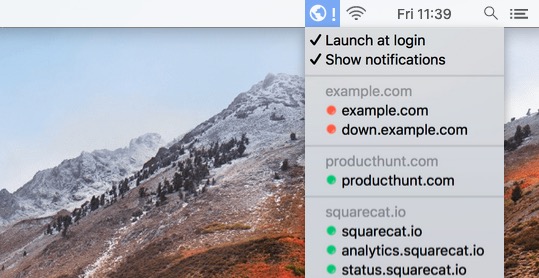 UpTimeBar notifies you if any of your websites are down. The menu bar app connects to trusted monitoring services like UptimeRobot, Pingdom and UpDown to check the status of your websites.
Watch Net Speed
Monitor real time internet bandwidth in your menu bar. Whether you want to watch only the download speed or you want to see the combined bandwidth.
Web Ping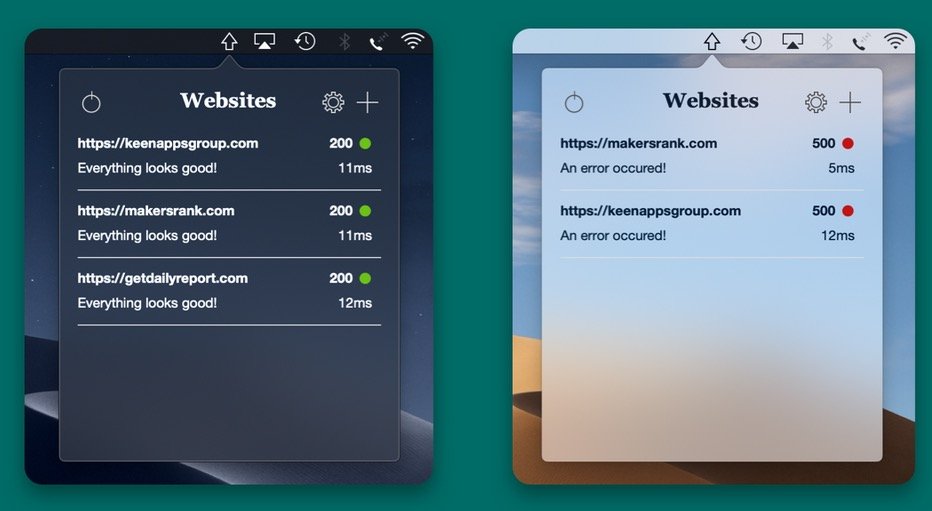 This menu bar app will ping all your websites straight from your computer and notify you when something is wrong with any of them, or when a broken website is back online.